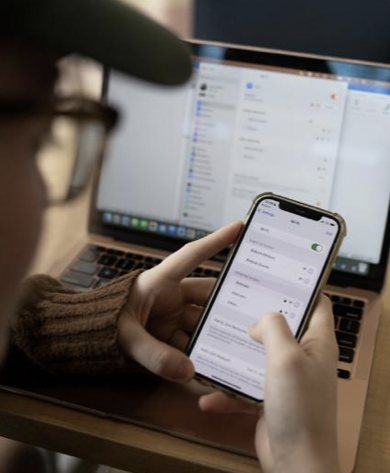 GC changed its Wi-Fi network "GC_Secure" to "Bobcats" at the beginning of November. 
GC is attempting to improve its previous Wi-Fi network by strengthening its new network to provide an enhanced learning experience for GC students and a smooth experience for faculty members and professors.
"I have noticed a slight difference in the strength of Wi-Fi," said Cami Marcotte, a junior mass communication major. "I am glad the school has been looking to improve in this area and other areas around campus. The real test will be finals week in December because that is usually when the library and campus are the busiest, causing the Wi-Fi to struggle sometimes."
Students depend on on-campus Wi-Fi daily, so it is vital to their learning experience to have a reliable network to use outside of their campus housing or apartments. In the past, there have been issues with the Wi-Fi and power outages at the dorms or apartment complexes due to outside factors. 
"When I was a sophomore, we experienced a tornado that came through Milledgeville last year," said Jack Gullo, a junior mass communication major. "My whole house had lost power for two days, and my roommates and I had to rely on the campus Wi-Fi to complete assignments on time." 
Gullo was not the only student who had to resort to campus Wi-Fi during the tornado, as most of Milledgeville did not have power for an extended period. 
"With the new Wi-Fi, I have been impressed by the speeds." Gullo said, "I also have not had trouble signing onto the network like with GC_Secure. Overall, I have thoroughly enjoyed my new Wi-Fi experience."
GC_Secure had its struggles in the past such as certain areas of the buildings getting less reception than others or too many people overloading the Wi-Fi, causing it to underperform. 
"Terrell Hall was lacking when connecting to Wi-Fi," said Ansley Hill, a junior mass communication major. "I would wait up to 10 minutes to connect to the Wi-Fi while my professor lectured the class, causing me to fall behind. I have had a better experience with the Bobcats network so far. Signing in has been a more straightforward process, and I have connected to the Wi-Fi in Terrell a lot faster so far."
Terrell Hall experiences problems with the air conditioning units in the rooms interfering with the internet. Students hope the new internet will eliminate this issue. 
The new campus Wi-Fi will be tested, with a surplus of students will be in the library and all over campus studying and preparing for final exams. Students are hopeful for fewer problems with the new and improved network.