Taking product placement to the next level
Popularity is rising among biopic films of consumer products like snacks and stuffed animals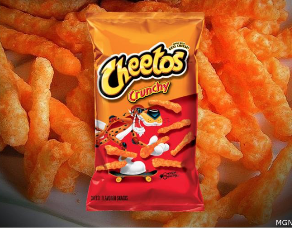 Product origin biopics have become the new trend in Hollywood, with the releases and announcements of films like "Flamin' Hot," the story of Flamin' Hot Cheetos, "Blackberry," a movie about the once-popular smartphone, and "The Beanie Bubble," which will be about the story of the Beanie Babies line of stuffed animals.  
These films are not just any low-budget movies, though. The companies and minds behind them are putting in millions of dollars as well as getting massive names involved. 
Take 2016's McDonalds origin movie, "The Founder," for example, which had people like Michael Keaton, Nick Offerman, Laura Dern, Linda Cardellini as well as many other big-time actors involved. 
The aforementioned "Flamin' Hot" will be directed by actress Eva Longoria. "The Beanie Bubble" has big names attached as well, like Elizabeth Banks and Zach Galifianakis, and will be written by Emmy Award-winning writer Kristin Gore and co-directed by her and her husband, the front man of popular 2000s alternative rock band OK Go, Damian Kulash. 
Even people like Ben Affleck and Matt Damon have turned to the product origin story trend, as the first release of their new production company, Artists Equity, is a biopic about the creation of Air Jordan.
The abundance of product and business-centric movies that we have been getting lately has left many moviegoers to question the practice and compare it to the next evolution of product placement. 
Josh Johnson, a sophomore finance and economics double major, thinks that the idea of giving a product an entire movie, rather than just placing it in a movie or show, is an interesting one. He also thinks that the concept is based more on  advertising  than  storytelling .
"Anytime you can bring a product into the film industry, it's a best of both worlds scenario,"  Johnson said. "You get those people who are brand-attached to go see your movie or tv show,  then you get people who are into the movie and get them into that brand or product."
Though these companies might be making these films to advertise their products and business, that does not mean the final product can not necessarily be considered "not good." 
"I actually watched "The Founder" on Netflix," said Peyton Cusick, a sophomore computer science major.  It was pretty interesting.  I liked it.  The acting was nice." 
Cusick is interested in learning about the lore behind these companies and products that have become a natural part of her day-to-day life.
Many of these films have not had much success upon release. "The Founder," for example, was a flop when it was first released. Since then, it has gained an audience and popularity through streaming. Recently, the film has even become one of Netflix's most watched movies. 
This situation could come into play with more recent releases like "Tetris" and "Air" which are currently not making too much of a dent in the box office or on streaming. 
Kaley Parham, a sophomore philosophy major and avid movie watcher, thinks this will be the case.
"I do think those types of movies do better on streaming just because people don't usually want to watch them in theaters," Parham said. "Once it's open to them on whatever streaming service they're using, and it feels free, they're more likely to watch it then."