Cale's cinema critiques: "Air"
Note: If you are unfamiliar with the story of Jordan Brand, be warned; this article contains spoilers for "Air"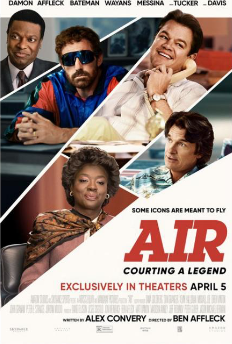 If you are a fan of Ben Affleck, as I am, you will know he is a Boston guy. Yet, 25 years after he and his best friend, Matt Damon, made "Good Will Hunting" together, he has ditched his Boston Celtics fandom — just for a brief moment — to make a movie about the man who picked them apart for more than a decade: Michael Jordan.
But "Air," Affleck's latest directorial effort, is far from standard sports-drama fare. This is a movie about Nike's efforts to, through the design of the Air Jordan 1, recruit Jordan and subsequently save the company's struggling basketball division. Yet, ironically, Jordan is, barring a couple of scenes, absent from the film. On the rare occasion we do see him, he is shot from behind. We never see his face — because this is not a movie about Jordan; it is a movie about his mother. 
Deloris Jordan, played by Viola Davis, was the architect of her son's financial success. And as Affleck's film, and Davis's powerhouse performance, makes clear, that was the result of her steadfast belief in her son's worth. Instead of accepting Nike's run-of-the-mill offer matched by brand rivals Adidas and Converse, she pushed for her son to receive a piece of the profits generated by each pair of Air Jordans sold, a deal which makes her son hundreds of millions of dollars every single year.
Exploring Deloris Jordan's efforts to set the foundation for her son's future is not just a fresh, new perspective on the Michael Jordan story; it is timely. Across the country, more and more college athletes are, finally, beginning to be compensated for their talents, the result of a decades-long struggle inspired by the Jordan family's historic deal. Nearly 40 years later, Deloris Jordan's ideas, that athletes create far more value for companies than companies create for athletes, is starting to catch on.
Fittingly, "Air" is also the first film produced by Artists Equity, the production company Affleck and Damon started in an effort to reshape profit distribution in the film industry and tailor the filmmaking process to the interests of creatives, not studio executives.
You can feel Affleck and Damon's fingerprints all over the film. Aside from Deloris Jordan and Nike Basketball talent scout Sonny Vaccaro, played by Damon, soft-spoken designer Peter Moore, played by Matthew Maher, is the story's hero. Of course, any pair of shoes Michael Jordan stepped into would, by the pedigree of his name alone, have been special, but it was Moore's colorful, revolutionary silhouette that would grab the attention of teenagers wandering the country's malls. Sure, Vaccaro and the rest of Nike Basketball's executives had to stretch the department's budget to create afford the deal —  Vaccaro promised the Jordan family Nike would pay the fines Jordan would receive for wearing shoes "too colorful" for the NBA's taste — but the Air Jordan 1 is a direct product of Moore's mind.
Of course, as unconventional as Affleck's film is, there is one glaring aspect undermining its underdog story: The film was financed, at least in part, by Amazon. It is hard to keep a straight face and call "Air" a shining example of people-over-profits filmmaking when it was paid for by the labor of warehouse workers barred from unionizing, bathroom breaks and livable wages. 
But, if you can check your reservations at the auditorium's doors, "Air" is a perfect choice for a night out at the movies. It has a star-studded cast: Affleck, Damon, Davis, Jason Bateman, Chris Tucker and Marlon Wayans. It is well-made. You will laugh. You will cry. You will leave with a smile on your face. It is a feel-good story about one of the greatest — if not the greatest — American athletes of all-time. I, a diehard LeBron James fan, dug it. And if that is not a glowing recommendation, I am not sure what is.