Owens takes Bobcat Athlete of the Week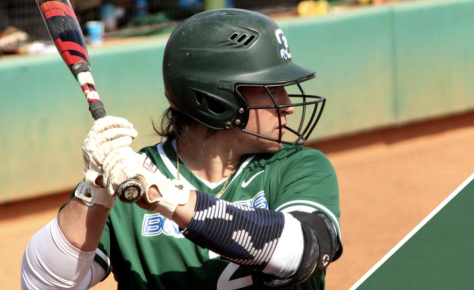 Bobcat Softball grabbed a PBC series win against Augusta — with offensive fireworks. These fireworks included senior first baseman Jessica Owens adding the rare feat of hitting a cycle to her list of career accomplishments, as well as a crucial game-three grand slam.
In game one, Owens became the first GC softball player in recent memory to hit a cycle, meaning she hit a single, a double, a triple and a home run all in the same game. On five at bats, Owens recorded four historic hits, which resulted in a total of seven RBI and her scoring two runs. Owens completely took over in game one, with involvement in nine of GC's 10 runs.
GC won game one 10-6, lost game two 7-3 and won game three 7-6. Over the span of the series, Owens went 5-12 at the plate, being responsible for 11 RBI and scoring four runs. Owens also recorded perfect stats on the field in all three games.
In game three, both teams had the bats cracking during an explosive third inning, which ended with a GC leading 6-5. Two early-inning hits and a walk resulted in the Bobcats having the bases loaded when Owens stepped up to the plate. This proved to be bad news for Augusta, as Owens went for a grand slam, sending three of her teammates home before her.
"I feel like I have had a very successful season so far," Owens said. "I have played extremely well, and it has been recognized by both the school and the Peach Belt. There are players in the conference with stats that are better than mine, but I was fortunate enough to be able to hit for the cycle, and that is something many of them will never do. It's rare. No other GC softball player has done it in recent history. I feel like that alone speaks to what I am capable of." 
Owens pinpointed her competitive edge as her main motivation. 
"I am unbelievably competitive, and I always want to win," Owens said. "I also want to be the best at what I am doing. When I decide I am going to do something, I put everything that I have into it. I'm an all or nothing type of person. You either get 100% of me, or you get nothing. When I see my dedication paying off, it makes me want to do more, give more and attain more. The high of success is something I am always chasing." 
The senior craves competition, wins and success, which she displays with her play. These qualities made her the X-factor against Augusta and are sure to lead to more impressive performances.