Trigger warnings in college classes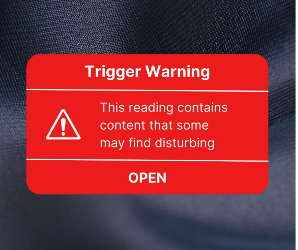 The administration at Cornell University recently rejected a proposal to require faculty to provide trigger warnings to students on class content that may be considered graphic or traumatic.
Claire Ting and Shelby Williams, representatives of the university's student assembly, submitted a proposal, titled Resolution SA 31, describing their goal to require instructors to provide a notice to students and refrain from penalizing students who opt out of exposure to potentially graphic content.
The resolution was passed by the Student Assembly and sent to the administration on March 31. 
The recommendation mandates warnings for topics including  sexual assault, domestic violence, self-harm, suicide, child abuse, racial violence, transphobic violence, homophobic harassment and xenophobia. 
The resolution explains the purpose of the warnings: to avoid triggering students with PTSD who may suffer from forms of anxiety, fear, irritability, flashbacks and panic attacks.
It also outlined that, if enacted, students who chose to opt out of class due to triggering content would not be penalized, contingent on their responsibility to make up any missed content.
In early April, the university's administrators responded to students' pleas for change.
"We cannot accept this resolution, as the actions it recommends would infringe on our core commitment to academic freedom and freedom of inquiry, and are at odds with the goals of a Cornell education," the administrators said.
In response to the denial, Claire Ting, representative for the School of Industrial and Labor Relations and Student Assembly member, explained her thoughts.
"I agree with the core of what she addresses in terms of academic freedom and learning to engage with challenging material, I think that we're very much on the same page there," Ting said. "At the same time, I also believe that we are both individuals who seek for a better Cornell community — trying to make the environment better for Cornell students so that we can produce the next generation's leaders — and in doing so we must serve the needs of our [student] communities."
Ting said the resolution was written in light of the issue's mischaracterization by Fox News, The New York Post and other high-profile media outlets. 
It was also inspired by a student's recent experience studying, in graphic detail, the Rape of Nanking, where soldiers committed atrocious human rights abuses against captured Chinese civilians, after experiencing sexual assault themselves. 
Cornell President Martha Pollack and Provost Michael Kotlikof asserted that the idea of these warnings may be "appropriate," but might also infringe upon academic freedom.
In 2016, the University of Chicago discussed the popular topic in a letter to its incoming freshman class.
"Our commitment to academic freedom means that we do not support so-called 'trigger warnings,' we do not cancel invited speakers because their topics might prove controversial, and we do not condone the creation of intellectual 'safe spaces' where individuals can retreat from ideas and perspectives at odds with their own," said John Ellison, Dean of Students at University of Chicago. 
A 2016 NPR poll asked 800 professors across the country about their use of trigger warnings in the classroom.
The results showed that more than half of the sample have used trigger warnings to avoid triggering students with potentially upsetting material.
Of those who had used trigger warnings, 64.7% chose to implement the cautionary messages without request from students or administration.
Many institutions, like UC Berkeley, choose to use their syllabi to warn students of potentially triggering topics. 
"Conflict is an inherent, and good, part of a university environment, but not when it impedes learning and inquiry," said university administrators at UC Berkeley. "Of course, instructors cannot hope to foresee all possible areas of conflict, but they can come prepared with strategies for generating good discussions."
Evelyn Evan, a freshman history major at GC, discussed the topic of trigger warnings in college classes.
"I think trigger warnings can be a good thing because, for some people, certain topics can trigger PTSD," Evan said. "Just like a brief warning, I don't really see a problem with that."
With an increase in content and trigger warnings in higher education throughout the country, the debate surrounding the matter is set to continue.