Discriminatory Hiring Practices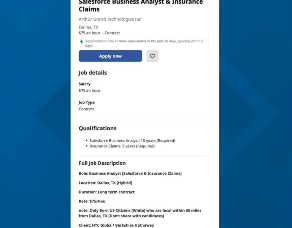 Arthur Grand Technologies, an IT service firm based in Ashburn, Virginia, is under fire for a recent job listing posted on the hiring website Indeed. 
The listing said only white applicants will be considered for the position but that this information was not to be shared with prospective employees. 
"Only Born US Citizens [White] who are local within 60 miles from Dallas, TX [Don't share with candidates]," the listing said.
Although the company did not immediately respond, Arthur Grand has since removed the job posting and released a statement on the issue via a follow-up LinkedIn post. 
"At Arthur Grand, we do not condone or engage in any type of discrimination based on race, color or religion," the company said. "We conducted an investigation and discovered that a new junior recruiter at our firm was responsible for the offending posting. We have taken immediate action and terminated their employment for violating our policy."
The LinkedIn post was later removed and replaced with another explanation. 
"A former employee took an existing posting and added discriminatory language, then reposted it through his own account," the company said. "The moment this was brought to our attention, we worked with the job portal to remove this offensive job posting."
Additionally, in the days following the incident, Arthur Grand referred to itself as a minority-owned company.
According to the Equal Employment Opportunity Commission, it is illegal to publish a job posting that uses race to differentiate applicants.
This job posting has sparked a conversation about discriminatory hiring practices, including topics of systematic racism and people of color being dismissed when saying that lack of diversity is a pipeline problem. 
A recent study conducted by the business website Gitnux found that more than 60% of U.S. employees reported experiencing or witnessing workplace discrimination. 
Inequitable hiring in the U.S. is rooted in systematic racism and only increases the Black-white wealth gap. 
These practices, such as simply having a "Black name," can affect prospective employees  as early as the application process.
The National Fund for Workplace Solutions reports that just 20% of Fortune 500 companies account for half of the hiring discrimination in the U.S. 
While Western societies have fought to make improvements, such as through the Civil Rights Movement, progressive steps still seem insufficient to enact real, lasting change. 
Priya Hemphill, a senior theatre major at GC on the verge of entering the workforce, shared her concerns as a young Black woman.
"I think I have been more hesitant to apply for jobs outside of Atlanta, or places where I know race isn't a concern," Hemphill said. "I know that's not a concern for my white friends. They worry more about the distance from their family or the cost of living, whereas I have to worry about if they are going to be racist to me."
Hemphill went on to explain the realizations she hopes employers have in the future.
"There are less, and different, opportunities for minorities than there are white people," Hemphill said. "There are many more things to consider before race or gender when hiring someone."