Things get 'Stranger' with stage play prequel
Popular Netflix series gets theatre production spinoff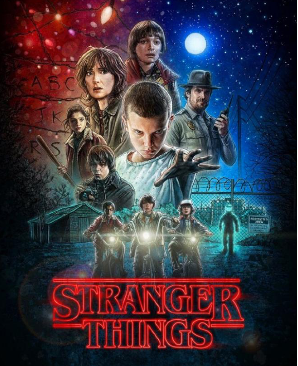 Streaming giant Netflix has found wild success with their hit show "Stranger Things" ever since it premiered in 2016. The show is now on its fourth season, and rumors of spin-offs have never been more prevalent. 
To the joy of those hoping for more stories from the Upside Down and Hawkins, the show's creators, the Duffer Brothers, have announced a prequel play that will open its doors in London's West End later this year. 
The play, titled "Stranger Things: The First Shadow," will be set in the fictionalized town of Hawkins, Indiana, during the 1950s. Written by "Stranger Things" writer Kate Trefry and directed by three-time Tony Award-winning director Stephen Daldry, the prequel play will cover storylines relating to the characters of Jim Hopper, Joyce Byers and Bob Newby during their high school days. It has also been announced that the show's current villain, Henry Creel, will have some kind of involvement in the story.
Though many fans are looking forward to the continuation, many are made hesitant by comments from the Duffer Brothers, who said the play was not originally part of their plans for the series.
"I think it's a bad idea," said Kylie Noles, a sophomore art major. "I think it'll lose its magic and will be disappointing because there's so much great about the show."
A common thread between "Stranger Things" fans on GC's campus is the struggle between the shift from a TV series to a stage play.
"It is kind of a gamble 'cause — usually — when you go between mediums, it tends to be kind of a bit off," said Collin Nebiker, a junior marketing major. "I do think that it would be neat to see it if it does translate."
Ben McPherson, a freshman management major, has been involved in theater since his sophomore year of high school and has since taken his stage skills to GC, providing him with perspective on the medium of theater in storytelling.
"It opens up a lot of opportunities for a new audience," McPherson said. "They are going to have the ability, if they do it right, to capture some really sincere moments in a way they can't through the Netflix series."
The concept of seeing younger versions of their favorite characters from the Netflix series seems to interest fans the most.
"I think it will add more character development — in a previous sense," McPherson said. "Being able to give context to the past is really important."
"I think it'll be nostalgic, in some way, for people who think this is a good idea," Noles said. "We've learned to love these characters and the people who've been casted for the show, and I think these actors just won't be able to do them justice."
"Stranger Things: The First Shadow" will open on December 14 before the show's fifth — and possibly final — season premieres next year.