Premier League observes Ramadan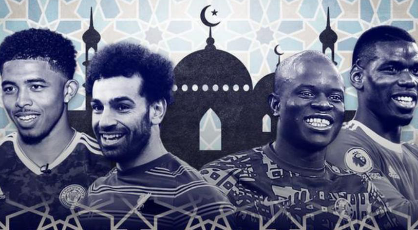 There are many Muslim athletes across the world and as we are in the ninth month of the Islamic calendar. Those athletes are actively participating in Ramadan during their sports season. In 2023, the Muslim holy month of Ramadan is observed between March 22 and April 21. 
This month, the Ummah (Muslim community) will wake up before dawn for Suhoor (the meal eaten in the early hours) to prepare for a full day of fasting before ending their fast after the sunset, known as Iftar.
"The month of Ramadan is the one which the Quran was revealed as guidance for mankind, and as clear signs that show the right way and distinguish between right and wrong" (Quran 2:185). 
Fasting is an act of worship and is one of the five pillars of Islam, in addition to declaration of faith, prayer, charity and Hajj (pilgrimage). This is a time for Muslims to strengthen their relationship with God through practicing self-discipline, self-reflection and spiritual reflection. 
As we tend to lose sight of our purpose and why we belong in this world throughout the year, Ramadan is a way for Muslims to leave the month with a stronger connection with their mental, physical and spiritual being. 
Fasting is not just a month of restriction but is meant for breaking unhealthy habits and replacing them with patience and understanding towards others. If Muslims are able to give up food which has been designed to benefit us, they are shown that they have the ability to leave harmful habits that have a negative impact on their souls. 
The importance of Ramadan this year has been emphasized by England's professional refereeing body, the PGMOL, who has issued a guidance for game match officials to find a natural pause in the game so that players can observe Iftar during the evening matches. 
This jump started last year during a match between Burnley and Southampton where they paused during the first half to allow players to break their fast. In 2021, during a game between Leicester and Crystal Palace, the game was paused to allow them to break their fasts after sunset.  This was the first occurrence of pausing the game for Muslim players for the Premier League. 
Premier League clubs have been putting forth an effort for their Muslims players like London club Chelsea FC. The club hosted an "Open Iftar" at the side of the pitch at Stamford Bridge, organized by the Chelsea Foundation who is working with the Ramadan Tent Project, a UK charity dedicated to bringing communities together and expanding the knowledge of the holy month. 
This is the first ever occurrence for the club and a Premier League stadium. Last year, Blackburn Rovers Football Club became the first British club to host an Edit Jamaat in their stadium, Ewood Park. 
"Sometimes playing football has been hard because Ramadan has been in the summer and during pre-season," said Abdoulaye Doucoure, a central midfielder for Premier League club Everton. "But I have always been lucky to practice Ramadan and there have never been problems with my physical condition – I am grateful for that. My religion is the most important thing in my life – I put my religion first, then comes my work. You can do both together and I am happy with that."
Doucoure praised the Premier League in their efforts to let their Muslim athletes enjoy Ramadan and has not worked against the Muslim faith. 
The Premier League has worked to provide drinking liquids, energy gels or supplements to their players for energy diminished by a full day of fasting before the game. 
While the response to the introduction of fasting breaks in the Premier League has received positive attention among fans and players, other football organizations have responded negatively to this idea.
On March 23, French sports daily L'Equipe said that the France staff allegedly recommended for their Muslim players to postpone their fasting so that their performance would not be negatively affected during the EURO 2024 qualifiers. 
Additionally, according to a leaked email, the French Football Federation has allegedly sent a warning email to referees to prevent them from pausing the match for Muslim players to break their fast. 
"Football takes no account of the political, religious, ideological or trade union of its actors," the FFF email said. "This principle is binding on everyone: authorities, clubs, licensees, referees. It is up to all stakeholders to enforce it."
This has only further pushed criticism and controversy globally towards France's negative attitude and treatment against Muslims that has existed prior. The Federal Commision of Referees (CFA) sent an email to referees further emphasizing the ban.
"These interruptions do not respect the provisions of the statutes of the FFF," the email said. "Disciplinary and/or criminal proceedings will be subjected to anyone violating the provisions."
Members of the CFA and coaches have criticized the idea of allowing pauses during matches, stating that there is no room for religion in sports.
"Nobody cares that they don't do it, because we are not in a Muslim country," said Didier Digard, the head coach for Olympique Gymnaste Club Nice Côte d'Azur. "You have to accept the country you live in."
Breaking a fast does not take a substantial amount of time but French officials insist that it disrupts the integrity of the matches.
As sunset tends to fall after 8 pm in Europe, there are a limited number of matches where the pause in the game would be implemented. 
Still, the Premier League has continued efforts for their Muslim athletes. 
"We are a big community with lots of supporters from different backgrounds and we want to honor, respect and share the joy of every single fan," said Dowshan Humzah, advisory board member of the Ramadan Tent Project. "This is about saying yes to love, inclusion, community and yes to everyone who wants to be a Chelsea fan. It is very special to be the first Premier League club to host an Open Iftar and something we are extremely proud about."
The event was also a part of Chelsea and the foundation's "No To Hate" campaign against racism and discrimination. 
Ramadan is being observed by Muslims all over the world and Premier League's actions have been praised. There has been a global encouragement for other sports to follow suit for the benefit of their Muslim players as the season continues. 
Muslim players, especially, have made it known about the importance that these pauses in the matches mean to them. 
"Just wanted to thank the Premier League, as well as Crystal Palace Football Club for allowing me to break my fast tonight in the middle of the game," said Wesley Fofana, a defender for Chelsea F.C. "That's what makes football wonderful."