Malirz takes Bobcat Athlete of the Week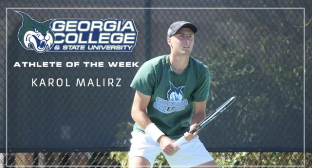 Sophomore Karol Malirz had an outstanding week on the court in matches at Spring Hill College and the University of West Alabama. His play found him landing both the GC Bobcat Athlete of the Week and the PBC Player of the Week awards.
The award sweep was well-earned through extremely solid performances in tough matches. Malirz saw his way to both awards by posting an undefeated record of 3-0 over the two-match span.
At Spring Hill, Malirz played alongside Enzo Sergi in a doubles match for the Bobcats. Malirz and Sergi would take the match with a dominant performance, earning a shutout victory.
In the match at West Alabama, Malirz played and came out on top of both a doubles and singles match for the Bobcats. Once again paired with Sergi, the two secured a doubles victory. Malirz would also win in singles against Nuuti Jokinen, 6-0, 6-7, 6-3.
"I'll try to keep up the hard work me and my teammates put into every practice we have on the court and in the weight room," Marlirz said.
During a tough stretch of games for the Bobcats, Malirz showed how this hard work can result in success on the court.
The recognition of these awards helps his confidence going forward.
"They are kind of like a reward for the last couple matches," Marlirz said. "So, in a sense, they can be a little confidence boost." 
His hard work and success on the court have earned the respect of his teammates and put him in a leadership position.
"He has had an amazing impact this season," said senior Jack Sorel. "He matured a lot from last season, and it's resulted in wins for us. His work ethic in practice makes him a great teammate, and it's great to have him as one of our leaders. He set a great example for the new guys this year."
Malirz and the Bobcats will continue their season on April 1 against Lander University, a tough conference opponent. After starting 0-2 in PBC play, a victory against No. 11 Lander would be massive. The Bobcats will be grateful to have Karol Malirz on their side.