Drug shortages create limited resources for treatment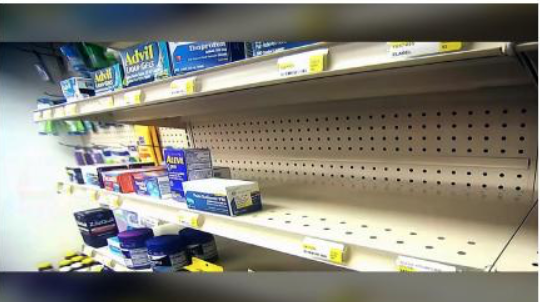 In the last year, new drug shortages have increased by nearly 30%. 
Michigan Senator and Chairman of the Homeland Security and Governmental Affairs Committee Gary Peters has spoken up about the recent shortages.
"These shortages, which peaked at 295 individual drugs in shortage at the end of 2022, have left healthcare professionals grappling with limited resources to treat patients in need," Peters said. "These underlying causes not only present serious concerns about providing adequate care to patients, but they also represent serious national security risks."
The recent committee report highlights that neither the federal government nor the pharmaceutical industry can assess the full supply chain. From the starting materials to the finished dosage and to purchasers and providers, there is more than officials are able to fully assess and amend. 
Many students are not directly affected by it. 
"I'm not directly personally affected by it, at least not to my knowledge," said sophomore marketing major Dylan Anderson.
Despite not being directly affected by it, many students know those who are and are aware of the reality behind not being able to get medicine.
"I haven't been affected by the shortage in the sense that I'm still getting my medication, and I'm still getting it on-time, but that can't be said for everyone," Anderson said. "My mom is a diabetic, and as far as I know, she's getting her medication on-time, but it's scary to think about what would happen if she wasn't getting it." 
It is reported that many drug manufacturers have moved overseas over the last several decades because foreign governments have offered tax and logistical incentives as well as fewer regulations. This recent shortage will push an increase in manufacturers moving overseas.
Maddison Farmer, a junior management information systems major, says that she has not been personally affected by the shortage, but she has noticed it among her friends.
"I've heard my friends complain about not getting their prescriptions on-time, and some even have to wait as long as a few weeks without their meds," Farmer said. "It's insane that someone who is medically prescribed has to wait more than a few days to receive those necessary pills."
In a recent poll of GC students, 68% of students polled are currently on prescribed medication. Of the students on medication, 40% are currently affected by the national shortage. 
"It's not just students that are on Vyvanse or Adderall that's affected," said nursing student Aimee McMullen. "There are patients in hospitals right now who are suffering from this shortage."
A total of 295 different types of drugs, from sedatives to Adderall to children's flu medicine, were in short supply during the year 2022, and the numbers are expected to worsen this year.
The drug shortage is affecting everyone, from children to seniors, and it may only get worse.
"It's a harsh reality to be on both sides of this," McCullen said. "I see it in person, how it affects others, and I've felt it myself as a person, not just a student, that relies on my prescription," said McMullen.