Gov. Kemp visits Milledgeville to discuss storm relief in response to EF-1 tornado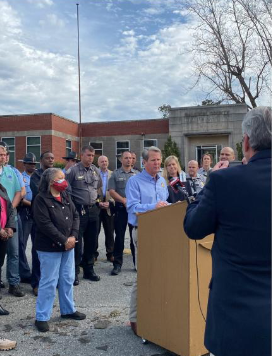 On March 26, an EF-1 tornado hit the surrounding areas of Milledgeville and Baldwin County. The winds on an EF-1 tornado can get up to 100 mph. 
In response to the storm, Georgia Gov. Brian Kemp spoke in Baldwin County just two days later. 
Kemp began with thanking local law enforcement and federal law enforcement for jumping in to help with the storm damage and working so diligently during this time. 
Kemp mentioned his tour of the Atrium Health Navicent Baldwin hospital in the hours prior.
"They are managing very well under the circumstances," Kemp said. "They obviously had roof and water damage." 
Kemp continued on to mention the community as a whole and what was being done to help restore order.
"Around 10 businesses and around 20 homes were hit in the local community, and we will continue to work with our federal partners on response and potential aid, depending on qualifications, as we continue to do the assessment," Kemp said. 
The governor highlighted his department's main goals within the restoration of counties in Georgia.
"Our main goal right now is making sure that we are keeping everybody safe, and we are helping our private sector partners in the local government to restore normal operations," Kemp said. 
Kemp introduced Georgia Emergency Management Chief of Staff Mike Smith. Smith began with thanking local law enforcement and federal law enforcement, who have been brought in to help. He also thanked Kemp for his time and aid to the Baldwin County community. 
"We were extremely fortunate that here, in this area, there were no fatalities," Smith said.
At the end of the speech, Kemp opened it up to questions. He was asked what the general reaction was to all the storm damage. 
"Well, it is unbelievable," Kemp said. "You do not really think about what size of the storm it is. There is a lot of damage here, and as Mike mentioned, we are very lucky there was no loss of life."
Many residents in Baldwin County have been receiving help from the community in order to help them fix roofs on their homes and stay financially stable. 
Interim Vice President of Student Life Dr. Daniel Nadler informed the GC community of a GoFundMe and a supply drive. Monica Jones's mother, Trina Hartry, lost everything in the storm, so she set up a GoFundMe in order to help her mother regain some of her belongings. 
"One home belonged to one of our own GCSU employees, Ms. Monica Jones," Nadler said.
The GC community organized a supply drive in order to help those in need, such as Hartry and Jones.
"I am reaching out to you today to consider participating in a supply drive tomorrow [Friday March 31] to help those community members that have been affected," Nadler said.
The supply drive was set up during a Bobcats Speak Out town hall meeting so that students could easily drop off any donations. Donations included fruits, vegetables, boxed items, canned items, bottled water, Gatorade and personal care items. 
The Milledgeville community and Baldwin County area are continuing to recover from the storm and are consistently aiding one another, bringing the community closer than ever.