Team Selena vs. Team Hailey
Why does the media always pin famous women against each other?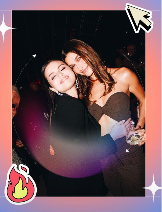 The final breakup of Justin Bieber and Selena Gomez in 2018 left fans upset. The annoyance fans faced only increased after Bieber married Hailey Baldwin, model and daughter of actor Stephen Baldwin, just four months after his breakup with Gomez. 
In February 2023, five years after the young couple tied the knot, a TikTok-driven feud between Baldwin and Gomez erupted.
The on-and-off relationship between Bieber and Gomez began in 2011, with the two breaking up multiple times between then and 2018.
During a breakup in 2016, Bieber and Baldwin began dating for a three-month period but split in March.
Baldwin and Bieber had met multiple times before through fan events, movie premieres and the Australian megachurch Hillsong Church.
At the time, Baldwin was known as one of Bieber's biggest fans and tweeted in support of his relationship with Gomez, which a now-deleted tweet from May 2011 reflects.
"I don't care what anyone says but Justin Bieber and Selena Gomez together is the definition of a teenage dream! #word," Baldwin said.
After this brief relationship in 2016, Bieber rekindled his relationship with Gomez for the last time, as the two broke off their bond in March 2018.
Two months later, Baldwin and Bieber were spotted together at a Miami nightclub, starting rumors that the two were attempting to "get back" at both of their recent exes, Shawn Mendes and Gomez. 
News broke that the pair got engaged on July 7, 2018, and the two were married in a New York City courthouse that September.
Bieber addressed the hate he and his now wife were receiving via Instagram in April 2019.
"I absolutely love and loved Selena, she will always hold a place in my heart, but I am head over heals in love with my wife and she is absolutely the best thing that has ever happened to me, period," Bieber said. 
On October 23, 2019, the pop star made her highly anticipated return to music with the No. 1 single "Lose You to Love Me," which calls out Bieber's choices in its lyrics. 
"In two months, you replaced us, like it was easy," Gomez said.
34 minutes after the song's release, Baldwin posted to her Instagram story with a screenshot of Summer Walker's song "I'll Kill You (feat. Jhene Aiko)," causing fans to speculate Baldwin's post was a response. However, she later denied this.
The two women began frequently making comments to magazines in order to combat the social media feuds caused by their fanbases.
In May 2021, the married couple attended the Met Gala, where fans gathered to repeatedly shout Gomez's name, and fans speculated that Baldwin began crying, as Justin comforted her.
After years of comments and speculations, Baldwin made a TikTok in April 2022 begging fans to leave her alone.
"Leave me alone at this point," Baldwin said. "I'm minding my business. I don't do anything. I don't say anything. Leave me alone, please. Enough time has gone by where it's valid to leave me alone."
After four years of marriage, Baldwin decided to finally formally address the controversies on an episode of the podcast "Call Her Daddy."
"It's all respect," Baldwin said. "It's all love. There's no drama, personally."
At the Academy Museum Gala in Los Angeles, in October 2022, Baldwin and Gomez took a photo together in an attempt to express their friendliness.
After all the hassle and photo-taking, the internet did not waste time in creating more drama for the girls.
In January, Baldwin shared a TikTok she made with fellow model Kendall Jenner, in which the two lip-sync to a popular audio.
"I'm not saying she deserved it, but I'm saying God's timing is always right," Baldwin and Gomez said.
Fans immediately connected the now-deleted video to Gomez, assuming the audio was referencing her drama with the singer.
In a repost of the clip, Gomez commented to dismiss fans' speculation.
"It's ok," Gomez said. "I don't let these things get me down! Be nice to everyone! x.".
Fans realized that the pop star and makeup mogul Kylie Jenner were in a battle to become the most followed woman on Instagram.
On Feb. 22, Gomez shared a TikTok story of her makeup, stating she had accidentally laminated her eyebrows too much.
That day, Jenner posted a zoomed-in photo of her eyebrows with the caption "This was an accident?????" along with a photo with close friend Baldwin.
Jenner and Gomez responded in the TikTok's comments section, saying that the incidents were not underhanded and that the stars supported one another.
After the interaction, social media users broke loose in sharing past clips and statements from Baldwin.
In the comments of TikToks that refer to Baldwin as a "mean girl" and call Jenner and Baldwin's behavior "disgusting," Gomez expressed her love for the videos.
Following the comments, Gomez announced her departure from social media due to the "silly" drama.
Macy Lynn McDowell, sophomore mass communication major, explained her thoughts on the social media drama.
"I am Team Selena, but I will say, looking into the receipts, Hailey does kind of seem to be in the right," McDowell said. 
In the following week, Gomez gained 17 million Instagram followers, while Baldwin lost 500,000 followers.
On March 1, Baldwin shared a tribute in celebration of her husband's birthday, and the comments pointed out the alleged feud. 
Although these women have publicly denied laments of one another, the public has garnered an obsession of a dispute between the two.
Kathleen Gibbs, sophomore mass communication major, spoke about the narratives supported by the TikTok crowd.
"I just think some of it's probably taken way out of context," Gibbs said. "It seems really suspicious because, obviously, you can put anything like that out, and people will believe it."
People often speculate feuds between famous women are typically over a man.
One of the most popular of these feuds between female celebrities surrounding a man is the neverending media frenzy around the actors Angelina Jolie, Jennifer Aniston and Brad Pitt.
After Pitt and Aniston filed for divorce, he began dating Jolie, and Jolie and Pitt were accused of cheating.
Despite denial of cheating rumors, the couple admitted that they fell in love on the set of "Mr. and Mrs. Smith," a film they starred in while he was married to Aniston.
After the actors coupled up, media outlets created narratives around the famous women and compared their careers, similar to Baldwin and Gomez's situation.
In 2010, Shira Tarrant, an associate professor in the Department of Women's, Gender, and Sexuality Studies at California State, Long Beach, discussed the actresses' debates in "Forbes." 
"It's not about their accomplishments," Tarrant said. "It's who won the prize of Brad Pitt."
Although Hollywood has adapted to the waves of feminism, the traditions of patriarchy are not lost.
Patriarchy places male celebrities on a pedestal, compares women's strengths and flaws and decides whether they are worthy of him. 
In a manner similar to Pitt, Bieber's role has not been questioned in the situation. This further supports the idea that the purpose of these dramas is to pit these women against one another rather than find the details of the matter.
Social media's obsession with #TeamHailey and #TeamSelena is a fun spectacle, but is the petty drama another account of the destructive works of sexism?