Hudgins earns Bobcat Athlete of the Week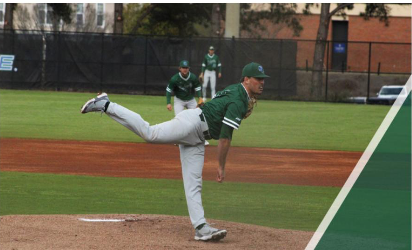 One recognition for the Bobcats this season was senior pitcher Josh Hudgins after his amazing performance against conference rival Flagler College.  
Hudgins was the starting pitcher for game one of the three-game series against the Saints. He was able to produce seven shutout innings, helping his team get the win over Flagler.  
Over his seven innings pitched, Hudgins only gave up two hits and one walk while striking out seven Flagler Saints. With little run support from the Bobcats, Josh was able to maintain pitching composure with runners in scoring position to keep the Saints shutout.  
"Josh has been lights-out for us all year long," said senior catcher Trey Ham. "He has been a guy that we can count on every time he takes the mound on Friday nights. He is lights-out every time. It is his fifth year, and he could not have started it off as a stronger year."  
Hudgins began the season injured for three weeks. This performance against Flagler was his second start of the season. Since coming back, Hudgins has had five pitching appearances, averaging 10.24 strikeouts per game and having only a .176 batting average against him.  
"It was a good feeling to perform that good against Flagler," Hudgins said. "Going into it with an open mind. That was only my second start after being on the shelf for three weeks because of an injury, so I was just trying to have a high-level focus. We played good defense, so I just wanted to take care of my job and control what I could." 
Hudgins has been an important part of the Bobcats' starting rotation for a few seasons, being one of the veteran pitchers on the team. With this being his final season for GC, there has been a lot of work put in by his pitching coach and him to allow him to finish his career on a high note.  
"The biggest improvement made in the offseason is Josh's breaking ball," said head coach Nolan Belcher. "The slider also has come a long way. That was kind of one of his weaker spots last year, but he improved these over the offseason and is showing up this year." 
Not only is Hudgins a key part on the field for the Bobcats, but he is also a veteran player that leads by example on and off the field. 
"Being the fifth-year guy that he is, he just fully accepts that role as a captain," Ham said. "He embraces it in every characteristic that a person can. I mean, you really could not ask for a better guy than Josh Hudgins to be a captain on your team." 
GC is currently ranked No. 2 in the Peach Belt Conference despite their 12-12 record. With the rest of the season filled mainly with important conference games, the pitching for the Bobcats will play a key role in how the rest of the season plays out.  
"It is really important to me, after each start every Friday, to have a full reset, mentally and physically," Hudgins said. "Also, going about my routine every week to bring that high level of competition and drive every single weekend. It takes a lot of hard work in the weight room and on the field and mental work as well to stay sharp, so I can bring my best the rest of the season." 
Watch Hudgins and the rest of GC baseball back in action at home, Friday, March 31, at 6:00 p.m. against University of North Georgia.