Evan Cowan wins PBC Freshman of the Week.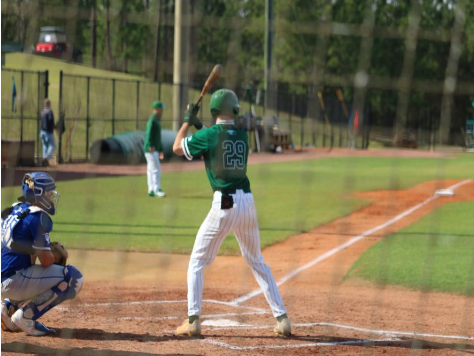 The GC baseball team has had a number of players this season show up and show out when needed. With numerous recognitions from GC Athletics and the Peach Belt Conference, Evan Cowan adds a PBC Freshman of the Week title to the list with his spectacular performance against Augusta University. 
The Bobcats played four games the week of March 13, winning three. Cowan hit leadoff in all four games that week, hitting .471 and scoring five runs. During the three-game series against Augusta, Cowan hit for an average of .636 to help the Bobcats sweep the Jaguars. 
"I changed my swing midseason — about, like, two weeks ago," Cowan said. "I think that is part of why I have been doing so well. The other part is just being a lot more relaxed. Baseball is a mental game, so being relaxed and confident is huge." 
Cowan went 3-for-4 in game one of the series, scoring two runs with a huge double in the fourth to put him in scoring position. In the next two games of the series, Cowan tallied two more hits. He finished the week with an on-base percentage of .522 and one stolen base. 
According to the PBC website, Cowan has the No. 9 batting average in the conference after his performance this week.
"It means a lot to me, to have been playing so well this year," Cowan said. "It kind of gives me hope that I will be able to lead a team in the future, since I am already doing it — somewhat — as a freshman. It helps a team as a whole, in my opinion, because it is good to have someone you can rely on, and I hope that I can continue to be a player that my team can rely on."
Cowan continues to stand out as the Bobcats leadoff hitter. Despite two tough conference losses against Georgia Southwestern this weekend, Cowan produced six hits for the Bobcats, including three in game three, with an RBI helping the team win one game of the series. 
"He just brings a spark to the team," said head coach Nolan Belcher. "Everybody respects the way he works, and they are all aware of his talent on the field. So, I think any time he is in the box, or when he is chasing the ball down in the outfield, he provides a spark to the team." 
With this only being Cowan's freshman season, he has stood up to the challenges he has faced. It is not every day that a freshman starts his college career hitting leadoff for his team. Cowan is currently the only freshman in the starting lineup for the Bobcats, with fellow PBC Freshman of the Week John Raines being a consistent relief pitcher for the club.
"My mom and my brother have really helped me get to where I am today," Cowan said. "My mom comes to almost every single home game. She's my good luck charm, and I just want to impress her. My brother and I have always been so competitive, and he might come here next year for baseball, so I just want to be one step ahead of him, beat him in batting average, beat him in doubles, you know — brotherly competition." 
Cowan looks to maintain his position in the starting lineup for the rest of the season. This comes with hard work on the field, which is shown with his continuous outstanding performances, but also off the field as well.
"I think his ability to lead by example, with the way he carries himself, the way he interacts with umpires and teammates and just continues to always improve in those areas is great," Belcher said. "I think Evan can continue to work in the weightroom and get stronger. I think that would help his game moving forward, but he works really hard in all phases, and I expect great things from him this season and in the future."