MLB implements new pitch clock rule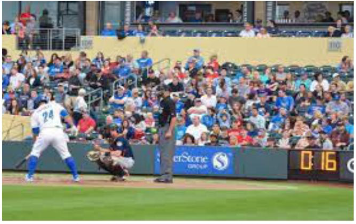 The MLB has installed a new rule to test out during this spring training. 
They have implemented a 15-second rule in between pitches, meaning the pitcher has to throw the ball in those 15 seconds, or the batter will be penalized with a ball. If the batter takes too long to get into the box, they will be awarded a strike.
This new rule is known as a "pitch clock."
The pitch clock has already stirred up controversy around the league, and we have not even made it through spring training.
Many people are upset with the new rule, and it has not gotten the best feedback from fans and players of baseball.
"I never thought anything like this would happen," said Trent Harris, a former GC pitcher. "Throughout all the baseball I have played and watched, I never once saw a problem with the length of games and how long it took for the pitcher to pitch, especially in college."
We have not seen it implemented into the world of college and junior college baseball yet. However, it is likely that we may see it in the near future.
The problem that the MLB is trying to fix with the new pitch clock is the length of games.
The average game last year was a little over three hours, and during this season's spring training, we have seen the average game time below two and a half hours, a significant drop from the regular-season runtimes of recent seasons. 
The shortened game times not only affect the players, but it can also have an impact on the fans as well.
Former GC club baseball player and intramural legend Josh Hammond felt that the fans would take the biggest hit from this due to less of a positive atmosphere at the games now.
"I love going to games with my family, and can understand how games might seem to take a little longer than everyone would like," Hammond said. "But, usually, people that do not want to be there for three hours end up leaving early, so I do not see the need to shorten games."
With umpires around the league already taking heat about their bad calls, all this does is put another opportunity for the umpire to ruin the game by ending it in a pitch clock violation.
"I can imagine it right now: game seven of the playoffs ending without a pitch being thrown," said Connor Coursey, a GC club baseball pitcher. "I just know that this upcoming playoff is going to have one game end that way, and it is going to send the league into an uproar, and they are either going to get rid of the rule or get rid of umpires."
With the pitch clock being implemented this season, it does, however, bring extra press into a sport that has the longest regular season out of any sport, and it could make for what could be the most exciting MLB season ever.