March Madness lives up to its' name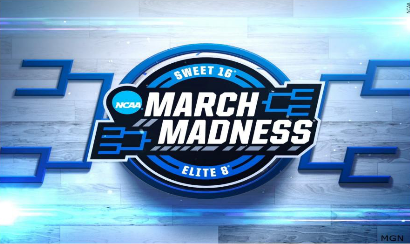 March Madness is in full swing and college basketball fans are now looking back at what the 2023 tournament has looked like.
Arizona State's Desmond Cambridge Jr. and Michigan's Hunter Dickinson kept their teams on the NCAA tournament bubble with miracle shots two weeks ahead of Selection Sunday. 
The Sun Devils and Wolverines were among a handful of teams trying to squeeze into the Field of 68 for the 2023 men's basketball tournament, and those shots kept them in the mix.  
This year's Final Four is April 1-3 at NRG Stadium in Houston, and fans now have a chance to see which four teams will get to compete in the national championship.
The last four teams were Mississippi State, North Carolina, West Virginia and Oklahoma State. The first four out were Clemson, Utah State, Arizona State and Michigan. 
Entering the tournament, Alabama secured their top spot for the South region, while Purdue took the East region. Houston got the number one seed for the Midwest, and Kansas took it for the West region. 
Houston opened with the best odds to win this year's March Madness at +550, according to the BetMGM sportsbook. However, an injury to star Marcus Sasser cast some doubt on the Cougars, leaving it to be anybody's tournament to win. 
Alabama (+800) and defending champion Kansas (+800) were next in line, followed by Purdue (+1100). The second tier of UCLA, Arizona, Texas and UConn were slightly sneakier bets to win it all, but still had the high-end talent to erase the chalk. 
As always, everyone tried to predict which upsets would take place in the first round of the tournament, the two front-runners being Oral Roberts and Charleston. 
Oral Roberts took on the mighty Duke Blue Devils in the first round with the line opening at Duke -6.5, but ultimately fell. Oral Roberts ranked third in the nation in points per game (84.2), and they committed just 9.4 turnovers per game at that pace, not to mention they had a 7-foot-5 center, Connor Vanover, who was a big matchup problem for anyone. 
Charleston had San Diego State in the first round and the opening line was San Diego State -5.5. Coach Pat Kelsey led No. 12 Charleston to the NCAA tournament in his second season, and senior guard Dalton Bolton alongside 6-foot-10 Ante Brzovic were a tough inside-outside combination. San Diego State defeated Charleston and advanced.
Both Oral Roberts and Charleston were 12 seeds in this tournament. In the past 40 years, there have been 53 12-over-5 upsets, and at the same time there have only been 55 11-over-6 wins and 56 10-over-7 results. 
"I have Alabama winning it all," said sophomore business major Michael Larruso. "As long as Brandon Miller plays I do not see anyone taking down the Crimson Tide." 
"I have a couple of big upsets this year. I picked 13 seed Furman to beat 4 seed Virginia and I also have 14 seed Montana State taking down 3 seed Kansas State," said junior accounting major Tucker Sutton.
Many people have traditions for watching the March Madness tournament, whether it be watching it with friends or eating certain foods while watching. 
"I always watch the first day with a bunch of my friends," said junior mass communication major Christian Castillo. "It is always so fun to see whose bracket gets busted right away, and it makes for a very entertaining day." 
The 2023 men's NCAA tournament will continue Saturday, April 1, with the first game between Florida Atlantic University and San Diego State University. The second will be between the University of Miami and the University of Connecticut. Fans can now only speculate as to who will be the final team standing on April 3 at NRG Stadium in Houston, Texas.