Latinx Term banned
Arkansas released an executive order earlier this year to ban the term from all state documents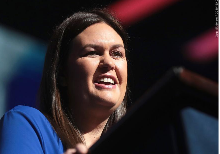 Earlier this year, Governor Sarah Huckabee Sanders of Arkansas announced an executive order to ban the word "Latinx"  from state documents. 
"Ethnically insensitive and pejorative language has no place in official government documents or government employee titles," Sanders said. "One can no more easily remove gender from Spanish and other romance languages than one can remove vowels and verbs from English."
Charlotte MaClane, a junior psychology major, says that the term is an example of societal changes and acceptance. 
"People should have the choice to identify as they seem fit to themselves," MaClane said. "If there is a population of people who identify in the same way or label themselves similarly, then that population should be acknowledged. It shouldn't affect others as easily as they're allowing it to."
More recently, a group of Hispanic lawmakers in the state of Connecticut has proposed that the state follows Arkansas's lead and introduce legislation to ban the term "Latinx" from their governing documents. Their reasonings differ, in that their consensus is that the "Americanized word disfigures the Spanish language and is an act of cultural appropriation." 
 "In the terms of government documents, I think that they make us check enough boxes and fill in enough blanks, and it's only up to whoever is filling it out to put what they'd like," McClane said. 
The group of lawmakers called the term offensive to Spanish speakers.
One of the five Hispanic Democrats who added their name onto the legislation to ban the term is state Representative Geraldo Reyes Jr., who is also the bill's chief sponsor. He said that the term is not a Spanish word but is instead a "woke" term that is offensive to Connecticut's large Puerto Rican population. In his interviews and announcements, Reyes said that though his motivations differ from Sanders's, he believes that her decision was the right one. 
"I'm of Puerto Rican descent, and I find it offensive," Reyes Jr. said. 
The term's increasing usage has been a subject of right-wing mockery. Still, most Hispanic Americans reject it, and the broader debate over the term and its usage does not fall solely along liberal-conservative lines. 
"Banning the use of the term 'Latinx' takes the decision out of Hispanic Americans' hands who believe in the term," said Daniela Hernandenz, a senior public health and Spanish major who serves as president of the Latin Student Association. "While some Latines may prefer to use the term "Latinx" as a way to be more gender-inclusive, others may find it to be unfamiliar or inappropriate. I personally use the term 'Latin' as the gender-neutral version, as it takes away the neo-colonialism aspect of the Latinx term."
A popular argument is how Hispanic Americans need the word "Latinx" to include trans people. Many feel as if it is transphobic, and some argue over why people use "Latinx" when they could use the "gender-neutral version," "Latin." 
"Latin isn't actually the gender-neutral term for people who have Latin American roots and/or origins," Hernandez said. "'Latin'" is the dead language that gave birth to the majority of the languages spoken today in Latin America. 'Latin,' therefore, is never used as a term to describe people from Latin America nor people who have roots from Latin America. Hence, there stems the debate whether to use the term 'Latine'/'Latinx' as the gender-neutral version of 'Latino'/'Latina.'"
Hernandez continues to discuss how cultural evolution plays a significant role in this issue.
"The decision of whether or not to use the term 'Latinx' should be made on an individual basis, taking into consideration the preferences and experiences of the people being referred to," Hernandez said. "Language is an integral part of culture, and it is natural for language to evolve over time along with the changes in culture. In fact, language and culture are so closely intertwined that it is difficult to separate them completely. As cultures change, new concepts, ideas and technologies emerge, and the language needs to adapt to accommodate these changes."