Major spotlight: Physics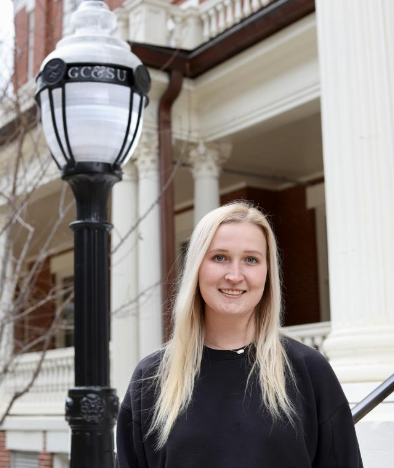 Physics is one of the lesser-known majors at GC, with the college's 2022 Fact Book reporting only 42 students enrolled as physics majors. It is a part of the Department of Chemistry, Physics and Astronomy.
According to the major's webpage, this is a program that "covers all the typical undergraduate courses generally found in physics programs such as mechanics, electricity and magnetism, thermodynamics and quantum theory."
Kaylee Kallam is a senior physics major at GC. She was not sure exactly what she wanted to do when she got to college, but she knew it was something similar to engineering.
"I originally wanted to do engineering, and then I took an electrical engineering class and decided that was not for me," Kallam said. "So, I started searching for other career paths. You know, like every child, I wanted to be a vet, but then I bought a horse, and I no longer wanted to be a vet. I applied to every school as a marketing major and was just going to change once I got in."
The physics program at GC is unique because it offers a special dual-degree program with Georgia Tech. GC does not offer an engineering major, but through this program, students can study as a physics major for three years at GC and then apply to transfer to Georgia Tech. If they are accepted, they can then take two more years of courses at Georgia Tech and graduate with an engineering degree. Through this partnership, GC is able to offer a pre-engineering track through the physics major.
Outside of the pre-engineering track, this smaller major does not offer specific concentrations. But Kallam describes how the professors help make sure students take courses that will prepare them for their specific career goals.
"There's different classes you can take to better prepare you for your plans after college," Kallam said. "For example, there's thermodynamics for engineers and then just a regular thermodynamics class. I don't think there's, like, defined tracks outside of pre-engineering, but you can definitely cater your educational experience to what you would like to do."
One specific professor that helped Kallam figure out what she wanted to do was Dr. Ralph France. France is a GC physics professor with a Ph.D. in nuclear astrophysics from Yale University. According to Kallam, he teaches most of the seminars, including Career Exploration, which was where he first told her about medical physics.
"So, Dr. Ralph France was actually the professor that told me to start looking into medical physics," Kallam said. "He showed me that about this plan, and then I was able to research it more and decide that's what I wanted to do. He actually went out of his way to offer the nuclear physics class last semester that I was able to take."
Kallam has been hard at work interviewing for graduate-school programs over the past few months. She plans to go on to study in a graduate program so that she can work in diagnostic medical physics.
"Essentially, all of the machines that contain particle accelerators and produce radiation, like the MRI, CT, mammogram, X-Ray, all that, they have to have like yearly checks to make sure that they're running properly and not going AWOL and overdosing people with radiation," Kallam said. "Then, if something breaks and has to be fixed, it needs to be reevaluated and signed off on before it can scan people again, so that's sort of what a diagnostic medical physicist does."
The physics program at GC may seem full of complicated concepts and difficult courses, but Kallam still managed to find ways to participate in extracurricular activities. She has been a member of Delta Gamma, served on the GC Panhellenic Council, played intramurals and is the president of the Equestrian Club — while still taking time to be a part of the Physics Club as well. She emphasizes that, although courses are difficult at times, physics students should be sure to have fun at college.
"Advanced quantum mechanics is definitely a difficult course, but I have to say that p-chem — physical chemistry — one and two have been the most time-consuming," Kallam said. "It seems really hard at first, but it's one of those things that, once it clicks, it clicks. If you do go physics, don't spend all of your time on school. Definitely take time to do things that you enjoy, whether it's going out with your friends, shopping, laying by the pool or joining a club sport. Your whole life doesn't have to be about school, and I do think some people in this program forget that."
Although physics seems like one of GC's more-daunting major programs, students still go through and graduate with their degrees every year. It may not be one of the more-popular majors at GC, but it certainly does not deserve to be overlooked.