GC's New Interim Director of Public Safety and Chief Of Police Nikki Renfroe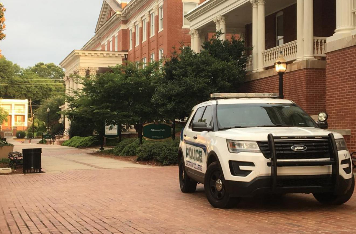 On Feb. 20, GC students were informed via email from Lee Fruitticher, GC Vice President for Finance and Administration, that former Director of Public Safety and Chief of Police for four years, Brett Stanelle, departed GC. There was no explanation given. 
There are rumors that Stanelle ignored an anonymous tip about hazing and was fired, but this has not been proven.
Nikki Renfroe, native of Milledgeville, has been announced as Interim Director of Public Safety and Chief of Police. 
Renfroe was first a dispatcher for the Milledgeville Police Department at 19. She wanted to be an officer, but the Chief at the time told her she was too young. 
"That is where I first got the confirmation, if you will, or notion to be in law enforcement," Renfroe said. 
She then tried to be an officer for GC Public Safety, but the other candidate got the position. This is when Renfroe applied to be a dispatcher and trooper with the Georgia State Patrol. She was assigned as a dispatcher for several months until she officially got the confirmation that she could attend trooper school. Renfroe served with the Georgia State Patrol for 30 years until she retired last May. 
Renfroe had also attended the Georgia Law Enforcement Command College and the FBI National Academy. She is a member of the National Organization of Black Law Enforcement Executives. She is also the founder of the Nikki R. Renfroe Emerging Leader Prep School Scholarship at Georgia Military Prep School, which provides tuition aid for minority high school students from single-parent homes. Renfroe was the first woman to achieve the Troop Commander title.
She was the first African American female to achieve the rank of Captain in the Georgia State Patrol. During this time, Renfroe worked crisis, hostage negotiations traffic crash reconstruction and recruitment. 
Before her retirement, Renfroe was appointed to the Office of Planning and Research and was assigned to the Commissioner's Office. 
Renfroe currently serves as the founding co-chair of the Traffic Safety Committee for the National Organization of Black Law Enforcement Executives. She also serves on the national Law Enforcement Committee for Mothers Against Drunk Driving.
Renfroe earned many titles, awards and achievements before coming to serve as GC's Interim Chief. 
It was announced that more details about the search for a permanent Director of Public Safety and Chief of Police will be announced soon, but for now, Renfroe is here to stay and make an impact on GC's campus. 
Renfroe has several plans for GC, but none that are new for students.
"One of the things that I am examining most recently is how we can make sure that proper notification is made in the wake of an emergency or just important information that needs to get out there," Renfroe said.
She claims that the most important things are some of the little things, like crosswalks, lights on campus and the RAVE app. 
Renfroe plans to train and teach her officers so that they are more equipped for situations on campus at any given time. 
"We are planning to build on what we already have," Renfroe said. "There is always room for us, as law enforcement officers and members of public safety, to increase our knowledge." 
The GC community welcomes Chief Renfroe with open arms and can expect more communication between public safety and students in the future.