Album Review: Caroline Polachek's "Desire, I Want to Turn Into You"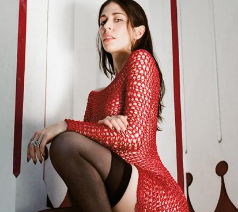 Coming off the heels of her first solo album, critical darling "Pang," Caroline Polachek, co-founder of now-disbanded indie-pop outfit Chairlift, released her sophomore project, "Desire, I Want to Turn Into You," on Feb. 14.
I stumbled upon Polachek's work after hearing her feature on Charli XCX's "New Shapes," one of the singles released in the lead-up to the release of her latest album, "Crash." Immediately, I was blown away by Polachek's angelic, falsetto-fueled vocals. In a matter of days, I found myself binging through her discography. I was three years late to the "Pang" Party, but I was hooked.
Naturally, as I sat down — on Valentine's Day, fittingly — to listen to "Desire, I Want to Turn Into You," I was a little bit worried about the infamous "sophomore slump" claiming yet another victim. "Pang" is a top-notch pop record in its own right. It being Polachek's first solo fare only set a near-impossible bar for her follow-up to clear. I thought she might have come out of the gate too hot for her own good.
But, oh, was I wrong. "Desire, I Want to Turn Into You" is on-par with — if not outright better than — "Pang."
"Welcome to My Island," the album's opener, gives listeners a taste of the masterclass in worldbuilding Polachek pulls off on the rest of the record. The track's lyrics discuss Polachek's hopes of escaping the daily judgment she receives from her family and existing — on a dreamy, idyllic island — as a feeling: desire. Although the version of the song that made it onto the record's tracklist is near-perfect, Polachek also released an absolute banger of a remix featuring Charli XCX and George Daniel.
The album's next three tracks, "Pretty in Possible," "Bunny Is a Rider" and "Sunset" form a triad of bright, energetic songs I know I will be listening to all summer long. "Bunny Is a Rider," an anthem about the elusive, enigmatic people in our lives, is definitely my favorite of the three, but "Sunset" is a beautiful, warm piece of flamenco pop.
"Crude Drawing of an Angel," a pitstop one-third of the way through the record, is Polachek's heartfelt meditation on the desperation and panic of attempting to preserve her fading memories of someone she has lost.
"Look over the edge, but not too far," Polachek mutters at the outset of "I Believe," a gut-wrenching tribute to the late, great SOPHIE. 
Polachek's light, electronic-infused refrain of "hah, hah, hah" on the front half of the song are a clear homage to those found throughout Sophie's sole studio album, "OIL OF EVERY PEARL'S UN-INSIDES."
Grimes and Dido join in on Polachek's exploration of her complicated feelings — once contempt and disdain, now intense affection — towards the person she finds emotional solace in, "Fly to You."
"Say you want to show me a place; the place is here; the here is inside you," Polachek says on the opening verse of "Blood and Butter," a four-and-a-half-minute embodiment of all the feelings — affection, desire, longing — the album is after.
From there, on the ethereal "Hopedrunk Everasking," Polachek's fantasy of existing beyond the barriers of death and time is laid to bare. 
"They'll find our bones, and yet, they won't," Polachek says. "Pull close to me and never be alone."
At the end of the song's second verse, she extends a single "ooh" for 45 seconds as the instrumental crescendos, matching Polachek's vocals and producing a sense of sonic euphoria. Each time I hear it, I think I am going to start levitating.
"Butterfly Net" and "Smoke" serve as a sort of decel lane guiding listeners from the magical mountaintop of "Hopedrunk Everasking" to the album's closer, "Billions," with the constant refrain of "nah, nah, nah" on "Smoke" feeling as if Polachek is escorting you off of the elliptical, experimental soundscape the record exists within.
"I've never felt so close to you," Polachek repeats over and over as "Billions" comes to a close.
It appears the goal she outlines on "Welcome to My Island" — exploring her own desires, connecting with whoever is the object of her affection — has been achieved.
Hooked on the freneticism of its titular feeling, Polachek's "Desire, I Want to Turn Into You" synthesizes the past and the present, the historic and the hypermodern, crafting a siren song for all-time.