Stop Cop City protests against development
Protests follow the death of Manuel "Tortugutia" Terán, a climate activists, during a raid on Cop City protesters in Atlanta, Georgia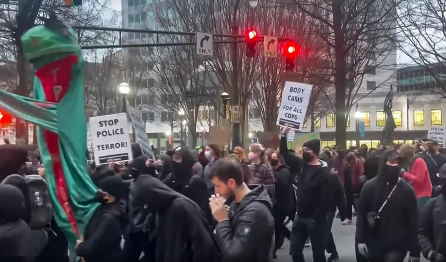 "Cop City" is a name that garnered national attention after tensions rose on Jan. 18, when a GA state trooper shot and killed an environmental activist. According to the "Atlanta Journal-Constitution," the Atlanta City Council approved a $90 million public safety training center in 2021 following the Black Lives Matter protests. 
They stated that the "state-of-the-art campus would replace substandard offerings and boost police morale beset by hiring and retention struggles in the wake of violent protests against racial injustice."
"This training facility will not only help boost morale, retention and recruitment of our public safety personnel but will give us physical space to ensure that our officers and firefighters are receiving 21st-century training, rooted in respect and regard for the communities they serve," said then Atlanta Mayor Keisha Lance Bottoms.
The development plans to build its facility through Weelaunee Forest, a 381-acre area that is one of the largest remaining undeveloped green spaces in Atlanta. One of the most well-known social movements that have been protesting for months is Stop Cop City (SCC), or Defend Atlanta Forest.
"To be clear — cop city is not just a controversial training center," said Kwame Olufemi, an organizer with Community Movement Builders. "It is a war base, where police will learn military-like maneuvers to kill Black people and control our bodies and movements. They are practicing how to make sure poor and working-class people stay in line."
SCC activists and other activists mostly engaged in peaceful protests, like tree-sits, encampments and local community events, with their more aggressive tactics being carefully targeted property damage and direct confrontation with police forces attempting to evict protestors from the forest. 
These protests began to escalate when a protester, Manuel Esteban Paez Terán, otherwise known as "Tortuguita," was shot when police raided a campground that held other demonstrators. According to the Georgia Bureau of Investigation, there is no body camera footage of the incident, and investigations are ongoing. They stated that the state trooper fired in self-defense after the officer was shot in the abdomen; activists state that it was a state-sanctioned murder. 
On Jan. 21, a more aggressive protest broke out in downtown Atlanta that caused damage to the Atlanta Police Foundation and other police property with explosives and rocks. Six people were arrested on charges, including domestic terrorism. This caused Gov. Brian Kemp to declare a state of emergency to call in the GA National Guard. 
Rep. Marjorie Taylor Greene shared tweets criticizing the protestors. 
"Atlanta police are under attack by Antifa terrorists," Greene wrote. "Left-wing terrorism is the biggest threat to democracy."
There is no knowledge if the protestors are affiliated with Antifa, a decentralized left-wing movement. 
Antifa came into light in recent years, during former President Trump's administration while protests against racial injustice were occurring. President Trump said that the United States would designate Antifa as a terrorist organization. Antifa is better recently described as a loose movement of activists with no known official leaders and is organized into autonomous local cells.
The Merriam-Webster dictionary defines "Antifa" as borrowed from a German phrase that opposes Nazism in 1946. In the United States, one of the first groups was founded in 2007, Rose City Antifa. The movement itself became more visible in 2017 when members had altercations with far-right groups on different occasions that gained national attention.
The members seek to fight against actions that they view as authoritarian, homophobic, racist or xenophobic. They promote a platform of stopping fascist, racist and far-right groups from spreading their views because of how they target marginalized people.
"The argument is that militant anti-fascism is inherently self-defense because of the historically documented violence that fascists pose, especially to marginalized people," said Mark Bray, a history lecturer at Rutgers University and the author of "Antifa: The Anti-Fascist Handbook."
According to Bray, Antifa groups "use tactics similar to anarchist groups" and "have overlapping ideologies, as both often criticize capitalism and seek to dismantle structures of authority, including police forces."
This does not specifically mean through ways of violence, as there are Antifa members who do not believe in aggressive actions, but rather in peaceful protesting. Using the movement Antifa to all protestors is mislabeled. While Antifa has made its presence known in the United States, the movement has been used as a scapegoat for other groups and situations making the label "Antifa" more of a threat than it is in reality. For instance, the Proud Boys, a right-wing extremist group, disguised themself during the insurrection as Antifa to avoid detection. 
Greene placing all of the protesters under the label Antifa is false. While Antifa and other protesters can have similar desires for the outcome of Cop City, they can follow separate ideologies and tactics to get to that point. Along with that, protestors can follow a more extremist point of view without identifying as Antifa. Labeling all the protesters against Cop City paints them in a negative light and gives a false perception of the goals of movements like Stop Cop City (SCC).  
The narrative set forth by Greene's statement against leftists is true to a certain extent. Similar to how leftists do have a far-left and extremist side, so does the right. The statement of how left-wing terrorism is the biggest threat to democracy also applies to right-wing extremism.  
Greene promoted heated rhetoric leading up to the insurrection on Jan. 6, 2021, which could be viewed as right-wing extremism. The insurrection was a threat to democracy with the threat of silencing millions of voters, including large numbers of marginalized and minority people who cast their ballots. The Proud Boys played a significant role in the insurrection that promoted the violence and subversion of democracy.
While speaking at the New York Young Republicans Club, Greene commented on the accusations against her regarding her involvement in the insurrection. 
"Then Jan. 6 happens, and next thing you know, I organized the whole thing along with Steve Bannon," Greene said. "And I gotta tell you something: If Steve Bannon and I had organized that, we would have won. Not to mention, it would have been armed."
She later stated that her comments were sarcastic but by downplaying the insurrection, stating that she would have been armed and won is violent rhetoric that goes against the values of democracy. Boasting that she has the ability to win an insurrection can be received as a promotion against the ideologies of democracy. While she views it as sarcasm, far-right extremists can view it as a support for their actions and influence further action, like how Trump promoted action in his speech prior to the insurrection.
There is no dispute on whether or not damage and violence were created on the Atlanta streets, but it is questionable to state that all the protesters are involved in Antifa. There needs to be a recognition that the Stop Cop City movement began with the approval of the implementation of Cop City. These protests were rooted in protecting the local ecosystem, fear from the minority residents of the community due to the further militarization of cops in the city, and the cultural and historical significance and importance of the property.
While there was a steady increase in targeted violence aimed at police and their property, the fatal shooting of Tortuguita incited the violence that promoted Gov. Kemp to call on the GA National Guard. The anger stems from the GA Bureau of Investigation saying that there is no body camera or dashcam footage of the shooting. Without having an accurate version of events and only the officer making it out of the altercation alive, it becomes increasingly more difficult to trust the police and their intentions. 
GA State Patrol does not require troopers to wear body cameras which is an issue in itself. This only pushes conspiracies that have the ability to further incite protests and violence. Considering the number of tragedies that have taken place for people of color, it is absurd for the state to not require their officers to turn on their body cameras if it potentially has the ability to help their case. 
This development itself is controversial in its disregard for the wishes of the residents of Atlanta. In 2020, the council made an effort to defund the police by withholding a third of the police department's budget of $217 million if the department did not change its culture. This was defeated in an 8-7 vote. While this is politically representing the districts' constituents, voting against this effort shows the ignorance of the current police culture and how much harm it causes to the Atlanta communities.  
Cop City, the protests and the violence caused by it can be minimized through city efforts but by refusing to do so and sticking to the same agenda, no progress can be made. Blaming one political side and the other side not taking accountability can only further harm democracy and what it stands for. The city of Atlanta needs to recognize the harm that will come from the development of Cop City to its people and its land, not only now but in future years ecologically, culturally and politically.