GC women's tennis starts season with high hopes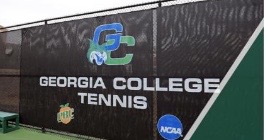 Sean King, Contributing Writer
February 9, 2023
The GC women's tennis team take to the courts this coming season with hope and expectation to bring the calvary of last season's success with them. 
The Bobcats went 15-7 overall in the 2021-2022 season, with a 4-3 record in the conference. Senior captain Emma Fleming went 3-2 in doubles and broke even, with 1-1 in singles, recording four wins and three losses overall.
"I think we can do even better than last year. Everyone has another year under their belts, another year of experience" Fleming said."Each year of experience [we] have under [our] belt, we can push that much more." 
Her teammates agreed that just because they did really well last season does not mean they are anywhere close to the peak of possibility for success. 
"I feel like we can do better, and I want to do better than last year," said sophomore Chiara 'High Socks' Santoro. "Last year was pretty good, I would say, but I think we can do even more."
Santoro finished last season 4-2 in singles and 4-2 in doubles, finishing the season 8-4, improving from her freshman season. 
"First year, I was nervous all the time. I did not really know what to do, specifically in doubles," Santoro said. "I got more experience now, and I think it is going a lot better."
Tennis stands out as one of the toughest mental games, and most players become significantly more comfortable and successful the more years they play.
Being out on the court with just yourself or one partner brings a lot of self-pressure and nerves, especially to new team members, like freshmen. However, one freshman would actually disagree. 
"Honestly, I do not really feel any pressure, maybe I should have," said freshman Ansley Morrison, the younger sister of junior player Ashton Morrison. "Also, having my sister on the team, I already felt like a part of the team before I got here. With the season about to start, I am trying not to freak out too much. I am just trying to chill."
Morrison went 2-1 in singles last semester, going into her first spring season with a winning record already. 
The GC women's tennis team is looking to keep climbing to the peak of success this coming season. They were happy with their performance last season, but they know they can, and want, to do better. Last season, the Bobcats finished fourth in the PBC (Peach Belt Conference), right behind the University of North Georgia Nighthawks.
The Bobcats open their season at home on Saturday, Feb. 4 against Emmanuel College of the Conference Carolinas. Emmanuel College placed fourth overall in their conference, finishing with an 8-3 record in conference, but finished 10-15 overall.