Student Spotlight: Jada D'Antigac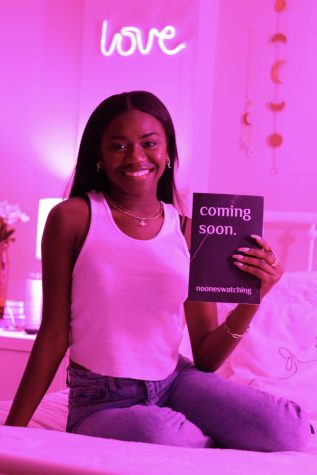 This September, Jada D'Antignac, senior mass communication major, fulfilled her life goal of publishing a poetry book, coming soon. The book is available on Amazon and is published under the pseudonym 'Nooneiswatching'. She uses this collection of poetry to express the emotional experiences of her life while also creating a connection with the reader and some of the universal emotions of young people today.
Coming soon covers a variety of hardships, particularly for those in their teens and early twenties. As the book continues, the growth and maturity of the author are evident through the voice of the writer. Her works range from addressing family issues and heartbreak, to providing hope for the reader that situations will get better even in the worst of times. 
"The theme was basically to embrace change and the different phases of our lives," said D'Antignac. "You are going to have your good times along with the bad, and you are going to make mistakes and learn lessons."
After discovering her love of poetry at an early age, D'Antignac decided during her teenage years that she wanted to write a book one day. Although writing has always been a personal interest of hers, she felt a special connection with the style of poetry. Her poems became an outlet for her. It allowed her to project her innermost emotions in an artistic way that was therapeutic and productive. Putting her thoughts on paper became a habit and over time, her collection grew into one cohesive piece.
"I don't want to say all the time, but when things happen," D'Antignac said. "When I'm happy, when I'm sad, when I go through something. If I have boy problems or family issues, or at any time where I feel strong emotions, I just put it on paper."
It was during the month of September that D'Antignac organized her works into a unified piece, and her first official novel was created. Coming soon is a collection of poetry that takes place during various highs and lows of the author's life, ranging from the years of 2017 to 2022. After deciding to distribute her work, D'Antignac began the steps of self-publication, and this proved to be a slightly challenging process.
"The process was difficult because it was my first-time self-publishing anything, and doing it on my own with no help," D'Antignac said. "I used an Amazon website and had to re-format everything from my Google Doc to make it into an actual book. It took a couple of weeks."
Coming soon has been popular amongst GC students, and D'Antignac newly announced the upcoming release of her next book. Without revealing the potential title, D'Antignac described this next work is set to be a reflection piece.
"This book is a reflection book," D'Antignac said. "I'm still considering the title, for the last book I waited until everything was done before I came up with the title, so this one I have a title for, but I can't say yet. It's like a reflection book, it's kind of changes that need to be made or that you have made or cycles that you've noticed in your life or experiences and emotions that you want to reflect on."
With the upcoming work to be published, as well as coming soon still being in the new phases of publication, D'Antignac has had an eventful year. It will be interesting to see the new styles and topics included in her next work, along with seeing the support of other GC students.