Hayden's Hot Takes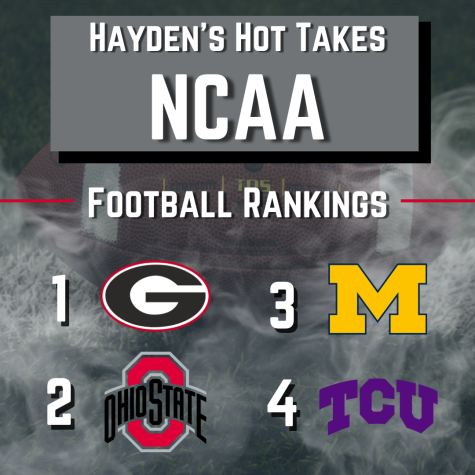 Nothing changes in my top four teams in college football. The best win of the weekend came from the fourth-ranked TCU Horned Frogs who defeated No. 18 Texas on the road in a tough atmosphere 17-10. 
The Horned Frogs proved their worth in the top four this week with this resume win. The Horned Frogs control their own destiny and will earn a spot in the College Football Playoff if they win out and win the BIG-12 title. 
My number one team in the nation remains the same after another solid win from the Georgia Bulldogs. The Dawgs traveled to Starkville, Mississippi to take on the other Bulldogs of Mississippi State. It was a closer first half than expected as UGA led 17-12. 
Georgia dominated the second half from the start as the offense exploded for 28 points in the second half. Georgia took the victory 45-19 and clinched an SEC Championship birth against the top ten LSU Tigers.
Ohio State remains in the second spot of my rankings. After struggling on the road last week against Northwestern, the Buckeyes showed out in Week 11, blowing out Indiana 56-14. 
The offense rediscovered their identity as Heisman Trophy candidate CJ Stroud completed 17 of 28 passes for 297 yards and 5 touchdowns. The Buckeyes had concerns about their rushing attack, but there were no concerns against Indiana, as they had two running back eclipse 100 yards rushing.
The Michigan Wolverines stayed strong in Week 11 as they dominated the Nebraska Cornhuskers 34-3. The Wolverine defense put on a stellar performance, holding Nebraska to just 146 total yards of offense. Star running back Blake Corum had another impressive performance as he carried the ball 28 times for 162 yards and one touchdown. 
The biggest upset of the week came at the fall of the sixth-ranked Oregon Ducks, who came up short 37-34 against the Washington Huskies. The Ducks were hoping to scratch their way back into the College Football Playoff if they had won out and won the Pac-12. With this loss, and their blowout loss against Georgia in Week 1, the Ducks' hopes of making it to the postseason seem out of reach.