To Renew or Not Renew….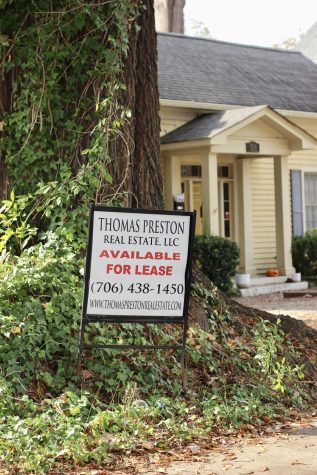 Leasing season is upon us once again, and with it comes a multitude of problems for students to face. 
Freshmen transitioning out of university housing must begin the search for next year's living situation just months after moving into their dorms. Upperclassmen living in houses or apartments must make the difficult decision between renewing their lease or delving into the housing market.
From 2021 to mid-2022, the average national rent in the United States saw a 13.4% increase. In Georgia, the median rent saw a 13.7% increase. These changes can largely be attributed to the pandemic and the ongoing shortage of housing in the US; the vacancy rate sits at a mere 5.6%, making affordable living hard to come by.
This increase affects GC students as well. The Boulevard, one of the more expensive housing options off campus, will increase the rent from $750 a month to $775 for the 2023-2024 school year. The increase tacks on 300 dollars for the full year.
"I was very close to moving out," said an anonymous GC junior who currently lives at Boulevard. "Every other place is around 600 a month. I'm going to have to get another job just to pay for rent next year."
Typically, living in a house means rent will be slightly cheaper than that of an apartment complex. Many homes' monthly rent range from $450 a month to $600 a month on the higher side. However, a house means furniture, and furnishing an entire home can be costly.
"The main thing that kept me from moving into a house was just buying a bunch of furniture," said the anonymous student. "This place comes with a side table, bed frames, a couch, a dresser, and a desk." 
Sorority women also may prefer to renew leases over moving into a new place, as sorority recruitment often begins several days before many leases start. Those students must book a hotel room or stay with friends as they wait for move-in day.
"It's just so much easier to stay here instead of moving out again, and now I have a place to stay over the summer," said the student.
Students looking to live in a house off-campus tackle even more stress. The search can begin just weeks after the semester starts. Many landlords post houses on the Bobcat Exchange Facebook group and contacting them just a few hours after the posting can make all the difference.
Often, the turnaround on signing a lease can happen overnight; if a group likes a house, even if they wish to continue to explore options, passing on it makes the likelihood of returning to it still available very slim. 
Murali Thirumal manages a multitude of homes near GC. In the peak of leasing season, he organizes tours and lease signings with students looking for housing. 
One group of GC juniors found themselves in the predicament every potential renter dreads; another group of students toured a house they loved just hours before them and were in the process of signing the application.
"You guys should take what is available at this point," Thirumal wrote in a text message to one of the juniors. "Do not wait on me. Because truly, I don't think I will have any other five bedrooms coming up."
From 2020 to 2021, the GC freshman population rose from 1452 to 1673. This increase made the battle for housing even more brutal. Many landlords prefer to sign to students looking to sign two-year leases, which puts rising seniors in an even harder situation.