Hayden's Hot Takes Week 10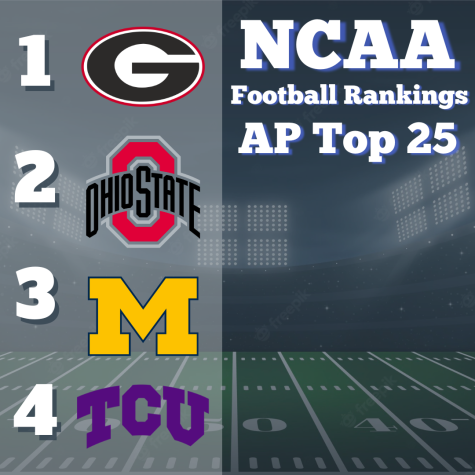 This weekend sparks the new era of college football. Major upsets, statement wins, and heartbreaks filled the first weekend of November. This week we see a major shakeup in my top four rankings.
I think everyone should know who the number one team in the country is now. The Georgia Bulldogs proved that to everyone after manhandling Tennessee 27-13. The Volunteers committed seven false start penalties in an atmosphere that was described as overrated by a few experts prior to the game. 
The story of this game was the UGA defense. This defense held "the best offense in the country" that was averaging just over 50 points per game, and 500 plus yards of total offense, to 13 points 289 yards of total offense. UGA absolutely exposed Tennessee. 
Tennessee wide receiver Jalin Hyatt came into the game averaging 113 yards receiving per game and 1.75 receiving touchdowns per game. Hyatt had six catches for 63 yards and no touchdowns against the Dawgs. 
Vols quarterback Hendon Hooker averaged 292 passing yards and 2.6 passing touchdowns before the UGA game. During the game, Hooker was limited to 195 yards passing, no passing touchdowns, and one interception. 
Anyone who thinks there is another team that should be number one over Georgia is just flat out wrong. The Dawgs have now beaten two top ten opponents by double digits. 
Second place is a toss-up at the moment. There are many arguments for Ohio State, and there are many arguments for Michigan. Despite struggling against a 1-7 Northwestern team, Ohio State found a way to win 21-7 in dreadful conditions with up to 50 mph winds. The question now is if Ohio State can beat the big teams without success in their passing attack. 
The Michigan Wolverines have been the most consistent team in my eyes behind Georgia. The Wolverines routed Rutgers over the weekend 52-17. They remain behind Ohio State because so far both teams' biggest win is against Penn State. Because Ohio State played Penn State on the road versus at home and dominated the second half like they did, this gives them the edge over Michigan right now, but it's very close.
In the fourth spot, I have the last remaining unbeaten team, TCU. They are only in the fourth spot because they are unbeaten. They are the most deserving team out of the remaining teams to slide into that last spot. The Horned Frogs have not dominated opponents like the other three, but that's just the style of play in the BIG-12, high scoring shootouts with little defense. Their best win at this moment was against Kansas State, which will not impress anyone. TCU will get its first test this weekend as they take on No. 18 Texas in their first real road test. 
Tennessee and Oregon slide in the fifth and sixth spots. Both teams have one loss on the year to Georgia. Both teams have dominated most of the other opponents they have faced. Both schools have a top ten victory. Tennessee's came against No. 10 Alabama, and Oregon's came against No. 9 UCLA.  Tennessee has the slight edge because they only lost by 14 to Georgia and not 46 like Oregon did.