GC volleyball comes up short versus Lander 3-1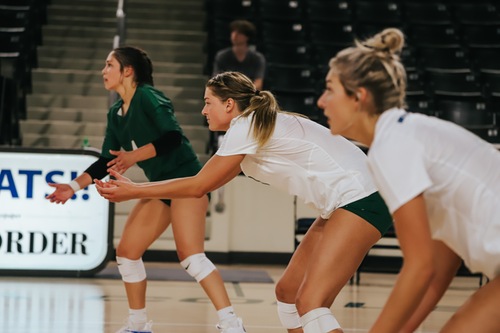 GC volleyball hosted Lander University in a two-game series this Thursday and Friday. The Bobcats fought hard against this strong Lander attack in the close first game of the series.  
Set one was filled with many highs and lows from both teams. GC started the set on the right foot leading 4-0 before it became a neck and neck set. Lander's ability to tally more kills than GC helped them secure the first set 25-21.
The second set mirrored the first with the Bearcats leading the set 4-0. GC slowly came back from this start. The turning point for the Bobcats came after an intense rally ending with a kill from graduate transfer Rachel Machovec tying the game 17-17. The Bobcats were able to keep up this momentum and win the set 25-23.
The Bobcats started set three strong with senior Emily Long recording two aces. After being up 5-1, Lander recorded three kills and the Bobcats had three errors allowing Lander to gain the lead. GC continued to fight, but was never able to regain the lead, losing 25-21.
GC had a slow start going into set 4 being down 10-1. After multiple errors from the Bearcats, GC was able to recover. During this close set, freshman Riese Johnson recorded a kill to tie the Bearcats 20-20. Unfortunately, the Bobcats were never able to gain the lead in set four, and Lander finished the match with a score of 25-21.
Although the Bobcats fell short in this game, both the attack and defense played a great first game against Lander. 
"I think we played really well today. When you lose a game sometimes you don't play well but I thought we played really well today," Machovec said. "We stuck together, we had great passes, great swings. We played together."
GC totaled 36 kills, 92 digs, and 12 blocks. Sophomore Brooke Roberts recorded the most kills of the game with eight and Rachel Machovec had three aces. Alanis Bernis received the most digs with 27. Four other Bobcats reached double digits in digs as well, Machovec 16, Emily Long 14, Ally Hall 13, and Riese Johnson 10.
Although GC played a good first game versus Lander, there are various areas in which they can improve upon before game two. 
"I think more energy. When we are getting blocked, sometimes an easy ball back we can use that as a free ball to make it easier on ourselves," said junior Callie Miller. "The energy overall also. I think everyone was getting a little tired by the end. You can tell it was showing on everyone's faces and they could tell it too."
Lander's freshman outside hitter Katie Miller has been the reigning PBC Player of the Week for volleyball since the first week of September, but their middle hitter, Maya Walker, seemed to be the most detrimental to the Bobcats in game one. 
"Their middles went off. We need to contain them a little bit better," said head coach Gretchen Krumdieck. "We did a good job on their outsides, but the middles is where we need to focus a little bit more on that."
GC's attitude towards game one shows how they are already preparing for game two versus the Bearcats.  
"We can completely readjust our mindset like yes we are upset about the loss, but it is a good thing that we play them tomorrow so we can take that anger, take that frustration and just take it to them tomorrow," Machovec said. 
The GC volleyball team has another important two-game conference series at home Friday, Sep. 30 at 6:00 PM and Oct. 1 and 3:00 PM where they look to improve their 4-2 conference record.