Goalkeeper Kate Richardson wins Bobcat Athlete of the Week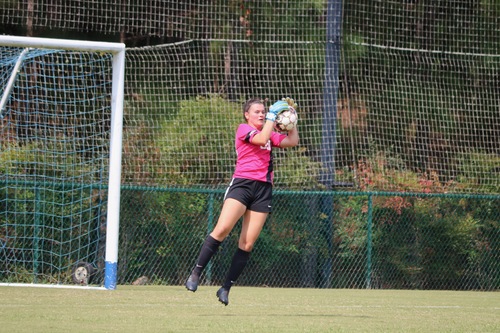 After a restful and productive offseason, GC sports are back. Athletes are looking to find success in the early part of the Fall season. One such athlete, Kate Richardson, has done so, earning recognition as Bobcat Athlete of the Week for the week of August 22-28. She is the first player to earn this recognition for the 2022-23 year. 
The junior goalkeeper is no stranger to recognition for her outstanding performance on the field, as this will be her third time earning this particular distinction. She has earned this award as a result of a ten save effort in the span of the Bobcats' opening two games. 
Richardson brought her best in the team's opening game at Florida Southern, recording an incredible seven saves in a defensive battle that ended in a 0-0 tie. Richardson then followed this up with another great game, recording three saves in a close loss to Saint Leo. 
Richardson accredits much of her early season success to the Bobcat's strong defensive core, which through its remarkable speed and grit, forces opponents to take shots from less advantageous angles and distances to the goal. This allows Richardson plenty of time to react properly to the shots that were taken. 
"Our defense was stepping in so quickly to shut down the space that most of the shots that Florida Southern were forced to take were from distance," Richardson said.  "This made it a lot easier and gave me a lot more time to react to the incoming shots. Sydney and Kat (both defenders) communicated incredibly well that game and made my job easier." 
As a four year veteran and captain of the team, Richardson has been forced to elevate her status on the team and fill a leadership role that will be crucial to the Bobcats success this season. Most of the roster is composed of incoming freshmen which makes up 11 of the 26 spots on the roster. GC sophomore defender Katherine Crouse says that Richardson has stepped into this role nicely.
"Kate has stepped into her role as captain extremely well over the last few months," Crouse said. "Her experience and consistency helps ground our defensive line and has allowed us to have success so far this year. She brings intensity and competitiveness to each training session which contributes to her success." 
Following Wednesday's 1-0 loss to West Georgia, the Bobcats have slipped to 1-3-1 on the season. The young team is still developing and adapting to the college game. First year head coach Jack Marchant believes that Richardson will play a huge role in helping the young members of the team adjust during the early part of this season. 
"Kate has been awesome," Merchant said. "She brings leadership both on and off the field. She will play an integral role in pushing our young team and maybe even upsetting a few teams in the PBC that come down here expecting an easy win." 
Richardson's leadership will prove to be crucial as the Bobcats look to improve upon the 2021 season, where they went 8-9 and exited in the first round of the PBC Tournament. The Bobcats will look to get back in the win column on Saturday on the road against Young Harris.