GC to Denmark
This past summer, the mass communications department hosted a two-week-long study abroad program in Denmark led by Dr. Mikkel Christensen and Dr. Jan Hoffman. 
The group visited places such as the Danish Parliament, Amalienborg Castle, a traditional Danish folk high school and the Danish Broadcasting Corporation. They also went on short excursions to Flensburg, Germany and Malmo, Sweden.  
Christensen holds Denmark close to his heart; born and raised in the country, he spoke about how much the opportunity to share his home with GC students meant to him. 
 "I used to work as a reporter in Denmark. Obviously, I've got a lot of contexts since I'm from there," said Christensen. "In the time I've been in the US, I've been really well treated and have got so many cool experiences. I've learned a lot."  
Christensen and Hoffman took the students to the Danish Broadcasting Corporation. They met with editor Peter Korsgaard and learned about public service media which is a type of broadcasting funded by the country's income tax.  
They also visited the Parliament to learn about their multi-party system, meaning the country has two or three major political parties accompanied by other smaller but still significant parties. No single party has held a majority of legislative seats since 1903. 
Towards the end of their tour of the Parliament, they happened to run into the prime minister, Mette Frederiksen. 
Kaite Holtz, junior mass communications major, commented on how informal meeting someone of her status felt compared to if the same had happened in America.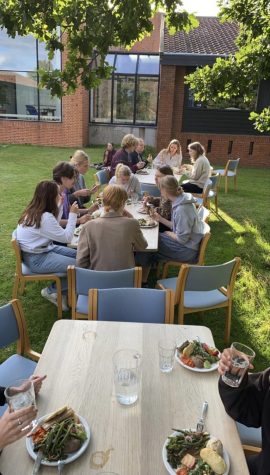 "We were outside reflecting on everything we did in there, and two very average cars pulled up behind where we had just come out from. One of them was two security guys, and the other was the Prime Minister," Holtz said. "She took a picture with us, and then she went back into the office, I guess. It was like saying 'hi' to your neighbor or something." 
Holtz mentioned the Danish term "hygge" several times. Hygge refers to a type of lifestyle practiced by many Danes; it centers around the feeling of cozy contentment, taking the time to relish the little things in life, and the pursuit of happiness. 
"We learned about it the first week we were there, but I didn't experience it or feel it until I was at the school because all the kids were so welcoming," said Holtz. "They wanted to know about America and everything. I felt like I had known these people forever." 
After the program was over, Holtz stayed in Europe an extra two weeks and visited Florence, Amsterdam, Barcelona and the Netherlands. She commented on the stark contrast she noticed after returning to America, especially when she compared it to Denmark. 
"It was pretty depressing, if we're being honest. Being from Atlanta then going abroad and seeing how people live over there made it so weird coming back here and sitting in a classroom and just continuing on with my normal life," said Holtz.  
Rose Wagner, senior mass communications major, spent an entire year in Denmark. She attended a folk school which is a boarding school for adults centered around gaining experiences and hobbies. She commented on how different the things she focused on at the school were when compared to her studies at GC.  
"Different schools have different concentrations of subjects and themes. You don't have any grades, so the main focus is learning," said Wagner. "How much you put into it is how much you're going to get out of it." 
Christensen emphasized the importance of fresh perspective, and how he intended for the trip to do just that.  
"The goal was to make Americans learn a lot more about America, and American media," said Christensen. "A fish doesn't know it's in water until it's out of water." 
If you're interested in studying abroad, be sure to look into it on the GC website. The idea of international schooling may be daunting, but it is truly the experience of a lifetime.