Thrifting saves the world one purchase at a time
As environmental concerns become more of an anxiety, thrifting begins to elevate some of the negative effects of fast fashion. Fast fashion is the mass production of products at a low cost that follows popular trends and is supplied to retail stores quickly. 
According to the UN Environment Programme, fast fashion is responsible for 8-10% of carbon emissions, and 85% of textiles end up in landfills. A study done by Princeton found that fast fashion accounts for 20% of water waste worldwide.
Anna Sampson, junior liberal studies major, advocates for a more environmentally friendly lifestyle and has found that thrifting is a helpful way to achieve that mindfulness.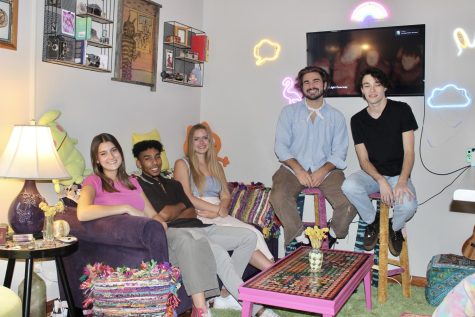 "By thrifting, you extend the life of a piece that was once worn by someone else rather than having it be thrown away and put into a landfill," Sampson said. "Shein and Cider may have cute clothes, but at the end of the day they aren't ethical or sustainable which is something I aim for when choosing to shop for clothes."
Scientists have warned we have less than seven years to manage climate change and while most of the effects come from larger companies, individuals' environmental footprints matter too.
"I started thrifting when I was in middle school because it's more sustainable and is a cool opportunity to find unique pieces," Sampson said.
Sampson's most effective thrifting tactic involves having an open mind and trusting the process.
"I find good pieces by going thrifting regularly," Sampson said. "Sometimes I won't find anything good and sometimes I'll hit the jackpot. I found a vintage green Master's sweater vest and I am in love with it. This was an awesome find because you can only get Masters apparel at the Master's golf tournament." 
Mary Hayden Hughes, sophomore mass communications major, started thrifting at Goodwill after thrifting became trendy.
"I think people are valuing their individuality and they can find that in thrifting because everything at goodwill is one of a kind," Hughes said.
Shopping on restock days allows shoppers to have a wider option when shopping for trendy pieces rather than having to turn to companies that rely on fast fashion to stay in style.
" I like to go thrifting on restock days. I know my local thrift store back home restocks on Wednesday nights, so I like to go on Thursdays to get first pick on trendy pieces," Sampson said. "I have found a lot of cool stuff that doesn't fit right but I've made it fit better by learning how to alter clothes. Nothing crazy, but things can make a big difference in how you look and feel in clothes."
Hughes learned creative ways of making the most out of her shopping experience.
"I like to get creative with my thrifting by going into different sections of the store. For example, I enjoy looking at the men's section for t-shirts and sometimes the children's section for shoes," Hughes said. 
There are many great thrift stores in Milledgeville that students can shop at. For instance, Maranatha Thrift Store in Milledgeville raises money for the non-profit organizations, Maranatha Mission Home and StagVets Inc. 
By thrifting, customers can strive for creativity and individuality while lowering unnecessary waste and harmful emissions. The next time a fashion trend comes around, go to a thrift shop to ensure that the community and the environment benefit from the purchase.