Dr. Shawn Brooks's pride in GC
Brooks bids farewell as GC's Vice President of Student Life
Student Life's Dr. Shawn Brooks retired earlier this month to head back home to Pennsylvania. Brooks has been Vice President of Student Life since August 2018, spending his previous years of careers at Georgia Tech, St. Lawrence University, the University of Pittsburgh and the University of Pitt-Johnstown. Along with working in Student Life, he worked in residence life, dedicating his career to helping students. 
"Student Affairs is important because we help compliment the world class education students are receiving inside the class by enduring their connection to each other with the institution outside the classroom," Brooks said. "We ensure that we provide them with co-curricular opportunities that will help make them more rounded and more marketable upon graduation."
Brooks spent his time at this institution cultivating a comprehensive co-curriculum to focus on how to support education beyond traditional classroom walls. With GC being a liberal arts college, it presented a different challenge to Brooks to create opportunities for students. 
"If the institution is too large, students end up getting lost and if it's too small, there are not enough opportunities to engage," Brooks said. "GC is not too big because of the individualized attention that students are able to get both inside and outside the class and it's not too small meaning that there are ample resources to provide them opportunities to get involved in the kind of things that they want. There's almost something for everyone here without it being so large that students get lost."
He emphasized the importance of a student's collegiate experience and how student affairs is a critical function of the institution. His efforts on campus heavily leaned into student interactions and brought projects that benefited campus. The most widely known is GC Gives day, that Brooks brought to Milledgeville from the University of Pittsburgh. One of his passions is to provide students with an opportunity to get engaged with the community.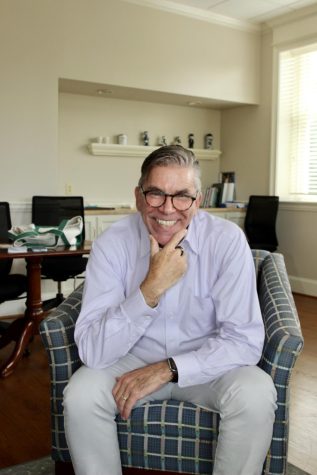 "I will always seek out opportunities to interface and interact with students," Brooks said. "They are my life blood and I love days when I get to interact with students more than administration or faculty. It's really, very important that we allow students the opportunity to love GC as much as we love GC and providing an opportunity for ways to find to engage and really develop school spirit."
During his time here, he has worked with multiple departments on campus that he found was important to focus on for campus. Most recently, in light of last year's hazing incident, Brooks worked with GC fraternity members to advance their program.
"I wanted to make sure that the men were really committing themselves to the foundational principles of their organization," Brooks said. "So, rather than it being a social opportunity and outlet, this was an opportunity for the men to engage with each other for more serious outcomes and really wanted to direct them in more in the areas of sexual assault prevention, anti-hazing work, drug and alcohol education and mental health. I really think that the men have the capacity to develop a system that has them focused on becoming gentlemen of distinction that really cultivate themselves as fully engaged men and moving into society after graduation."
He was continuously challenged throughout his time here with the COVID-19 crisis being on the list. Brooks navigated those uncertain waters on how to continue engage students after lockdown by providing virtual opportunities with the institution and each other. 
"One of the things that I have learned in life and living is that I'm a cog in the wheel and this is just a snapshot in time," Brooks said. "I think the thing I'm most proud of is being able to bring student affairs together as a unified division and allow my employees to be the amazing, bright shining stars that they are that will allow students to have a really good experience. I really want to be known for continuing to steer the ship through and then coming out on the other side of it."
At the end of the day, Brooks noted that his experiences with people on campus was what he fell in love with.
 "I think that you are amazing," Brooks said. "You have the opportunity to create any kind of future that you want. You are standing on the brink of greatness. The decisions you are making now are going to have impacts on your entire life so being a part of helping students to navigate who they are, develop an understanding of who they are and what they're capable of in order to be able to connect with their futures. That just inspires me and that's why I get up in the morning."