Music Mid-Day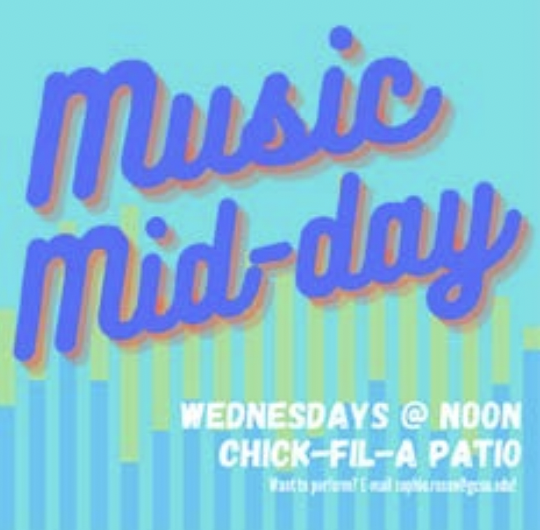 The lively campus is one of the many reasons that people fall in love with GC. With classic architecture and beautiful greenery, it is not hard to see why. What separates GC from other colleges in Georgia is the tight knit community.
The Student Life Department has begun a weekly event every Wednesday at noon called Music Mid-day that seeks to engage this GC community with weekly music performances that are 30-minute shows performed on the patio next to the Chick-Fil-A on campus.
Sophie Rosen, coordinator for student programs, believes this is something that just adds to the community.
"Student life is working on revamping their media and adding different events and so this is just one of them," said Rosen. "It just adds another factor to the already welcoming community."
What is unique about this program is how any member of the GC community can perform whether they are students, faculty or staff. By doing this, the event brings the GC community together.
These events allow members of the community to showcase their talents by providing a place for people with common interests.
"If you're willing to stop by and listen you might take interest in the people around and it could build friendships," said Rosen.
GC student Caroline Williams was the first to perform in this program and was pleasantly surprised. Williams is in her second year at GC as a music therapy major focusing on voice among other talents such as guitar, piano and even a little bit of the drums.
Williams found out about this program through an email from the music department and saw it as a great opportunity.
"I mostly have been gigging in Augusta, where I'm from, and this seemed like a good idea to start out and meet some other musicians," said Williams.
She was not sure how this was going to go as the initial artist and worried that it may be awkward. However, this was not the case.
"There were a lot of faculty and staff that came out and started dancing and also some of my friends came," said Williams. "I even got tipped which was a pretty nice surprise."
Bella Eclavea, a sophomore theatre and philosophy double major, also has a creative medium music minor and is next up on Music Mid-day.
Eclavea similarly heard about this program through the music department and was sold when she heard that her friend, Caroline Williams, had performed. Eclavea appreciated how casual these events are and decided to spontaneously sign up.
"I sing and play my guitar all the time at home and in my free time and why not do this outside with pretty weather for people to enjoy when they walk by," said Eclavea.
Music Mid-day is the perfect way for people to showcase their talents in a friendly, casual environment. It is open to students from all majors along with any faculty and staff.