Boundless
After two years, The GC Art Department is hosting BOUNDLESS, a live capstone exhibit, through January 2022.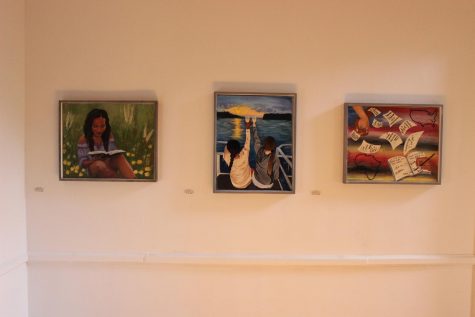 The exhibit is hosted in the Leland Gallery in Ennis Hall and the Museum of Fine Arts in the Underwood House with artwork by Jenna Bryson, Brooklyn Busman, Jacob Cain, Maggie Cheatham, Laney Cowan, Laurie Gentry, Emma Lammers, Mary Frances Ludington, Abbey Smith and Brooke Yost.
"We are re-opening our doors to the public after being locked down. It's a rebirth," said Ernesto Gomez, lecturer of art and gallery technician. "We are all very thankful for the students' energy, for their perseverance, to fight through all the adversity we had to deal with. For them to put all that aside and still get the artwork up is something to be celebrated."
The capstone exhibit is created and run by art students every year.
"It is how we want to leave and how we want to present ourselves. We want people to remember us for when we leave GC," said Laurie Gentry, senior studio art major. "We want to remember that we went through COVID-19 and all this terrible stuff and now to one that is really uncharted that we're all experiencing for the first time together."
The students chose this title to represent how they collectively feel.
"Boundless came from the idea that no matter where we go and what we're doing, our ideas and where we're going in life, that there's no limit to it so our dreams are boundless," said Abbey Smith, senior studio art major.
As similar as they feel about the exhibit, each series of artwork represents something different to every student.
Gentry focused on film photography, making silver gelatin prints in a dark room. Her artwork was inspired by the concept of dealing with the process of life and how changes can stunt a person's growth or encourage it.
"I call this my season of life here at GC," said Gentry. "And now I'm preparing to enter a new season and want to pay homage to those places and experiences that have given me this sense of peace, comfort and stability during this time."
The art the students create come from their personal life and feelings that they hope to convey through their art.
"I wanted to make something that celebrated not only me, but my friends and the support group we have and wanted to share the beauty that is behind mental illness," said Smith. "I had to do a lot of exploring to bring more about the people and that's part of the idea of light. I wanted to show the light within each of them to resemble hope."
Brooke Yost, a senior studio art major, went through a long process so that she was able to present it in the way she wanted. She began by painting over littered trash on canvas but ended up throwing away three paintings due to the dislike of the presentation and started over with a new idea.
"I had to go to the Norcross River, collect the river silt and clay, bring it back here, dehydrate it, sift it as a powder, add it to a clay body, test out that clay body," said Yost. "I want people to appreciate it and enjoy the moments that my friends and I captured in the photos. Also, I wanted to address the urgency of the issue of littering and how even though I did it in a beautiful way, it's still there."
Artists want to make a statement with their work that they hope the audience will take away from.
"The people in the pictures are a huge support and with mental illness, there shouldn't be any fear to reach out for help because you're not alone and there's always a beacon of light," said Smith.
For the first time, the capstone exhibit is in two buildings and will remain that way for years to come.
"We opened a second venue to accommodate the next class so we had to get it opened and ready and have students have one cycle in there so we can see how they reacted to the space," said Gomez. "It's a way to celebrate this class and to adjust things so it will be a little easier for us next semester."