Bobcat Volleyball Dominates Young Harris on Senior Day
The GC volleyball team (9-21, 3-6 PBC) took down Young Harris College in four sets Saturday Nov. 13 on their Senior Day.
The Bobcats took the first, second and fourth sets from YHC to secure a special 3-1 victory for the seniors. GC won the first set 25-19 as the Bobcats picked up double-digit kills with 12. The second period followed in similar fashion as GC recorded 12 kills again and won the set 25-18.
The third set went to the visiting Mountain Lions 25-18 as they held GC to eight kills, but the Bobcats countered by taking the fourth set 26-24 with a match-high 19 kills in the period.
GC posted a dominant performance as five seniors played their final game in the Centennial Center. The Bobcats outperformed the Mountain Lions in almost every statistical category, especially in the kills category. GC recorded 51 kills to just 39 for their opponents.
GC senior outside hitter Sarah Stewart led her squad in kills with 22. Stewart kept Young Harris on their toes, giving them no breathing room as the lone hitter with double-digit kills in the match. On the defensive end, she recorded nine digs and a block.
Stewart has worked her way into the GC volleyball record book, ranking third all-time in kills with 755, just behind former teammate Libby Bochniak. Going into the 2021 season, Stewart had 363 kills. This season alone, she has 362 kills going into the postseason. She also has 546 career digs, recording 352 of them just this season. After the senior day matchup, she earned herself the number 10 slot in the school record book for all-time digs.
Senior middle Sarah Mangan also put together an impressive performance in Saturday's match. She notched seven kills, four blocks and three digs. Mangan holds the No. 3 spot in the record book for all-time blocks with 257.
Meanwhile, Bobcat Lauren Talele had herself a great game as she accounted for 39 of 48 total assists in the final home match of her career. Talele also had nine digs, five kills and three service aces. Following Saturday's win, the senior has 1,857 assists, placing her second all-time in GC history behind former teammate Kayla Brockway.
Senior defensive specialist Morgan Overly hit two service aces of her own, along with eight digs. Overly has 29 career aces and 429 digs through her four years at GC.
GC senior Emily Sweatman had five kills and digs in her final home match. Sweatman has 140 kills and 43 blocks in her tenure at GC.
"It was honestly the funnest weekend," Sweatman said. "My favorite part is that everyone's families were able to get together. Having everyone and their families there is like having a giant family. I loved all of the support from the team, like the gifts and the locker room. They went out of their way to make us feel special."
As a team, the Bobcats had a total of 62 digs compared to 49 for YHC. Sophomore libero Bella DeSalvo led the defense with 17 digs. DeSalvo also had five assists.
The Bobcats saw their best turnout of the season with over 250 people in attendance. The environment was incredible, which contributed to the success of the squad.
GC sophomore Callie Miller played a huge part in the senior day festivities as well. She has been on the injury reserve since Oct. 8. Before her injury, she had 99 kills, 94 digs and 35 total blocks on the season. Miller and junior Emily Long managed the senior day festivities, including decorating the locker room and getting the seniors their gifts, as well as photos.
"I like watching them walk in the locker room," Miller said. "We have the lights off to make it more dramatic, and we play a song from freshman year. This year, we played Sicko Mode. Senior Night is a night you always remember, so it's just super fun to see their smiles."
Mangan will graduate from GC with a bachelor's degree in Special Education. After graduation, she plans to attend graduate school to earn a masters in speech pathology.
Stewart will obtain a degree in Exercise Science then go into the postgraduate track to attend physician's assistant school.
Meanwhile, Talele will graduate from GC on the pre-med track with a major in Biology. Once she graduates, she hopes to attend medical school and earn her medical assistant certification.
Sweatman plans to go into the marketing field as she will graduate with a bachelor's in Marketing. Overley will obtain her degree in Political Science and she plans to attend law school.
"These seniors have been through alot," said head coach Gretchen Krumdieck. "As freshmen, we played in the NCAA tournament in California, so that was a lot for them. They have been very steady through these years, and they've done a great job."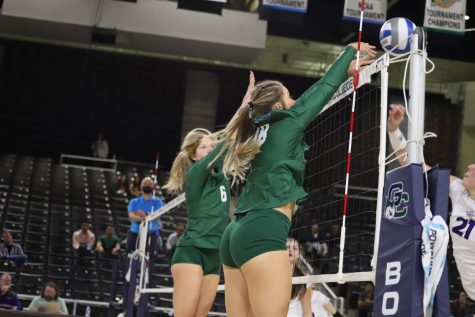 The Bobcats will travel to Augusta Friday Nov. 19 to take on Lander University in the first round of the PBC Tournament. The first serve is set for Friday at 7:30 with live stats and video available at GCBobcats.com.