Palm Readings with Sister Nina: Is this all a bunch of hocus pocus?
When entering Milledgeville on N. Columbia St., a small cabin sits to the right of the busy road. A large sign in front of the house reads "Sister Nina: Palm Readings & Tarot Cards." As cars whizz past the wooden sign, I pulled in to see if this mysterious psychic could predict my future.
It is nearly impossible to find any information about this place. Through my online search, all I was able to find were directions and a phone number.  Details about "Sister Nina" are vague, so the only source into this psychic is Sister Nina herself. I called and scheduled an appointment, unable to make any predictions.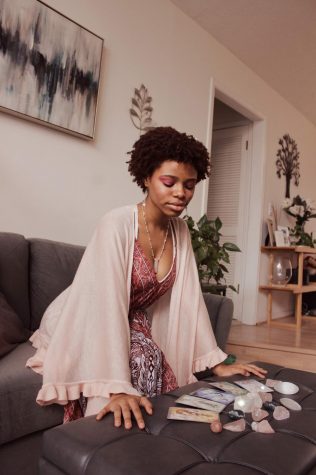 I arrived at the time we had agreed upon on the phone the previous day. After knocking on the door, I was instructed to come through the back porch so we could meet outside. Later I learned this was only a precaution due to the ongoing COVID-19 pandemic and her readings are usually done inside.
As I walked up the steps of the porch, holding my cell phone, and greeted Nina, I was abruptly asked if I was recording. Truthfully speaking, I replied no, but asked if it would be all right if I did record the session.
A worried look glossed over her face as she sternly replied that she would not be comfortable with me recording at any point before, during, or after the reading. When I asked her if it was alright for me to ask her some questions before the session her guardedness increased.
At this moment, she explained that she had two previous experiences in which people came to her, recorded her without her permission, and would later use the recordings to ridicule her online. I was unable to find any record of these instances, despite her telling me these incidents were the first things to show up if you were to Google her name.
She asked me to not video record, audio record, take notes or ask her any interview questions, so I respectfully agreed and as we proceeded with the regular session. I'm simply writing from memory of my experience.
Nina and I walked over to a large patio table where two massive ashtrays filled to the brim with used cigarettes. Once seated, Sister Nina landed her gaze on my open palm and began her practice. Without hesitation, she explained that I would be moving far away from Milledgeville within the next six months to a year. She supported this argument by saying that this is too small a town for someone with my aura.
I was shocked, to say the least. Just the day before, I had been talking to some friends about my summer plans to move overseas to the Netherlands. She stopped speaking when she noticed my immediate shock. Sister Nina asked me if she had said I was not unexpecting. I explained to her that she was indeed correct. She seemed to be satisfied with my idea and told me that I should without a doubt pursue those plans.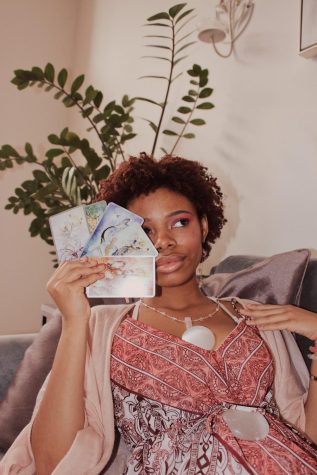 Honestly, going into the appointment I was a bit skeptical, but after that initial remark, I was on the edge of my seat for the rest of our meeting.
Sister Nina proceeded to catch my attention with certain comments and predictions over our 30-minute session. She was very certain that I would pursue a career in which I would be reaching out to people and helping them. I explained that my current path with my studies would be reporting and journalism of some kind, but she seemed dissatisfied with that answer. Seeing her face fall, I reluctantly shared that I have had thoughts of going to law school and becoming an attorney. She quickly exclaimed "yes!" and told me that is exactly what I will do in my life and I should not try to steer away from it.
In the entirety of the reading, she shared additional insights. Some made sense in my life, others did not. But the first two remarks confirmed my previous ideas and inspired me to follow through.
After she finished the reading and I pulled my hand away, we got to have some small talk. Her real name is Teresa, and she is originally from Chicago and has lived in Milledgeville for 30 years. She moved down here after a visit to her brother in Statesboro. She and her husband passed through Milledgeville and fell in love with the small-town feel. Promptly, they moved here and opened up "Sister Nina."
Readings with Teresa cost $40 and she takes payments through Cash App. To know more or make an appointment for a reading, she is contacted via phone at 478-453-8288.