Bobcats Soccer on a Roll
The GC soccer team is 8-4 through their first 12 games of the fall season, and they are 3-3 in conference play. This marks a major improvement from the spring when the Bobcats finished the season 4-6 with a schedule shortened by COVID-19.
During their victories, the Bobcats have looked extremely dominant. They communicate with one another well, they support and cheer for their teammates no matter what the score is, and they are truly just one big family.
The team made a couple of adjustments to how they practice during the offseason and how they warm up before games. According to senior defender Ryann Smith, that has been a huge key to their success this season.
"Change is good," Smith said. "We have changed how we warm up, which hadn't changed in ten years. We changed how we work with one another, the practices are different, and we changed the cheer before a game."
On the field, changes are very important, but changes made off the field truly bring a team together.
"You have to be a team in order to work with one another, and you have to be friends first," Smith said. "I think us becoming closer with one another has helped with the outcome on the field by winning more games, scoring more goals, and just doing better overall."
The Bobcats lost a few key defensive players from a season ago, and filling the shoes of previous players has proved vital to the team's success this campaign.
"We've had a very good incoming class that has made an impact on the team already," said head coach Tinna Gallagher. "We also have very good leadership, and I think the girls did a great job over the summer to come in prepared. We had expectations that they met, and some even exceeded them. We were very fit and ready to play when we met in August."
When the Bobcats are at their best, they do extremely well maintaining possession of the ball.
The Bobcats' best defense is their offense as they frequently control possession by not allowing their opponent to even touch the ball. The team passes the ball around the field often, which often wears out their opponents by the end of games, creating easier opportunities for them to score late in contests.
"We combine passes more, and we're focusing on taking one to two touches before each pass, and that really does win games," Smith said.
Offensively, the Bobcats have dramatically improved their statistics from last season. In the spring, the team averaged 1.2 goals per game, which they have now improved to 2.2 this season. They have also enjoyed a 3% shot increase, now taking seven more shots per game on average.
Despite their solid record, the Bobcats still sit at the number six seed in their extremely competitive conference. However, they already played the top two teams in the conference, so the team only looks to go up from here as a softer schedule awaits them.
"We just have to finish strong because the games we need to win are coming up," said senior midfielder Becca Morris.
The team has high goals and expectations after their strong first half of the season. If the Bobcats are able to finish as a top-four seed in the conference, they will get to host a first-round playoff game.
"I think we have proved already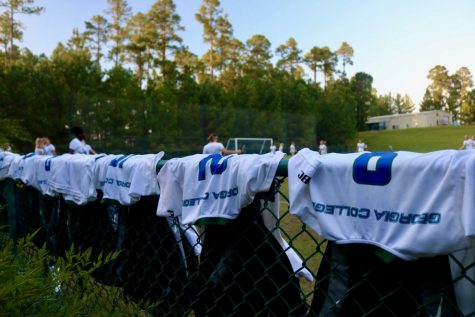 that we belong amongst the top teams in the conference," Gallagher said. "We just have to make sure we're focused and to not take any teams for granted."
The team currently has five games left in the regular season. They next face Clayton State on Wednesday Oct. 20 at home.
"We have one goal, which is to win the conference championship," Gallagher said.
GC soccer has never won a conference title, but this team has a legitimate shot to make some history and win it all.