Yik Yak is Back: Controversial app makes a reappearance
Created in 2013 YikYak got the attention of many people. According to failory.com, the app had over 1.5 million active users before it was shut down in 2017. Originally the app had been created 100% anonymous with no feature allowing profile pictures and usernames.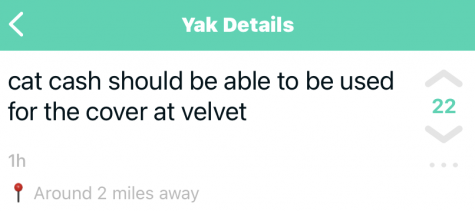 The masterminds behind the app were two college students attending Furman University, Tyler Droll, and Stephen Buffington. Their goal was to reach as many college campuses as possible. The app started off small and reached other campuses in the east, south, and Midwest by word of mouth over spring break. They finally reached the west by going on the road. They succeeded by reaching over 1,600 campuses. However, the app was taken down in April of 2017 due to discrimination, racism, and bullying. According to bussinessinsider.com, the creators were making a move remove the anonymity and add real profiles. That never took off and eventually the app had been shut down and the world moved on.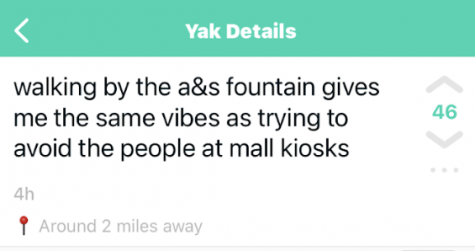 Four years later, the app has made a comeback. The owners of the app stated on their company website that they were bringing YikYak back, "because [they] believe the global community deserves a place to connect with people nearby." The YikYak creators also think that the app, "unites local communities. College campuses, music festivals, cities, large workplaces, and anywhere in between instantly become friendly herds of fresh new ideas, jokes, perspectives and friends." According to higherddive.com, "The platform's new owners promised to root out bullying or threatening language. A lack of these types of guardrails dogged college
administrators in its previous iteration."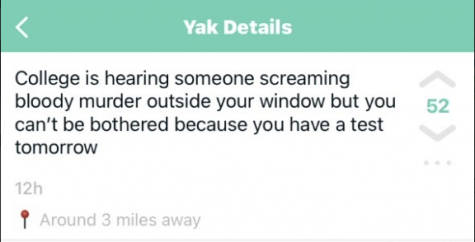 The app gives you access to any posts within a 5-mile radius of your location. A student-based survey posted on "Bobcat Exchange", inquiring students about their use of the app. The survey showed us that all the students answered yes to being on the infamous app. When asked if students post on the app or just scroll, it was divided straight down the middle. With 50% of responders telling us that they post and 50% telling us that they prefer to stick to scrolling through others' posts rather than "yaking" on their own.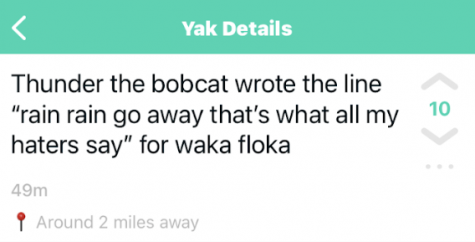 Active yakers tend to find their inspiration for posts by being active on campus and around the community. Overhearing a conversation, catching a glimpse of something embarrassing or even a small rumor, is all it takes to get their ideas rolling. Students on campus are thankful for the little gems that others see around campus, the trend has taken off and has put our eyes and ears to work.