GC Soccer Shuts Out Valdosta State 3-0
The GC soccer team shined Friday Sep. 10 in their home game versus Valdosta State. They shut down the Blazers, winning 3-0 with a stellar defensive performance.
The defensive line for the Bobcats was like a wall that couldn't be torn down all game. Every time the Blazers were about to get an open look, or a passing lane looked open, the GC defense quickly eliminated any chance of an open shot.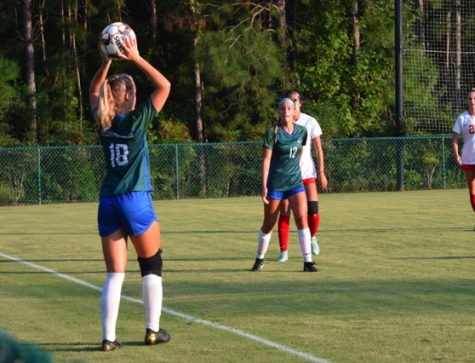 The Bobcats filled each other's roles perfectly as they rotated their defense based on where the ball was in play. Senior defender Ryann Smith led the defense, but her role in the game served as much more than a defender.
Smith ended the night with two assists to go along with her great defensive performance. As a great team player that tries to get everyone around her involved in the game, she understands what her teammates do well and gives them great opportunities to put those strengths to use.
"I try my best wherever I can," Smith said. "I try to be supportive of all of my teammates, get as many assists as I can, as well as communicate a lot on the field whether it's defensively or offensively."
Smith often looks for the opposite field cross pass to the opposite wing cutting towards the goal.
"The defense is just going to get caught off their line," Smith said. "If you try and find that ball behind, it's a really good ball to have somebody run on, especially any of our forwards."
She completed this pass numerous times throughout the game, setting up players like senior forward Cassie Balzano to score.
Balzano has led the way for the Bobcats in goals scored this season. She's tallied up five goals through their first three games. She scored two of those five in this game, one in the 32nd minute of the first half, and another in the 13th minute in the second half .
"I try to find the back of the net whenever I can," Balzano said. "I'm trying to break some school records this year."
As a forward, Balzano does not dribble the ball as much as the midfielders, so she only gets opportunities to score a couple of times throughout games. Perhaps, her best skill is not letting
any of those chances go to waste. Every time she got the ball in this game, she either scored or had a shot on goal that just missed.
The Bobcats actually tallied nine shots on goal throughout the game, as opposed to the Blazers who didn't have any. It was an overall dominant performance from the Bobcats on Friday.
"We had a game plan, and they executed it," said head coach Tinna Gallagher. "There were some adjustments we had to make at halftime, but when I tell the girls something, they're just so coachable. They listen, and they transfer that information onto the field so well."
Preparation during the prior week proved key to the team's defensive success.
"We had been working on making sure we're not getting beat over the top, that we're shifting together and communicating better, and it really worked today," Gallagher said.
If the team can repeat Friday's level on a consistent basis, they should have no trouble finishing the regular season with a fantastic record.