GC Volleyball in-game report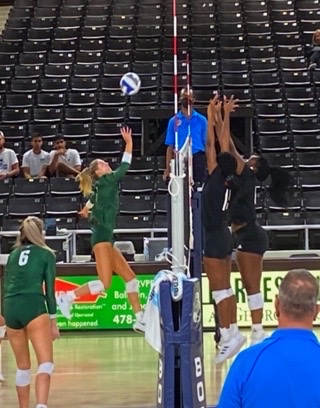 The GC volleyball team played in the three-day Peach Belt/Gulf South Crossover tournament over the weekend. The Bobcats hosted the event at the Centennial Center.
On Saturday, GC faced West Alabama in their final game of the weekend. The intense contest lasted four periods, featuring several exciting digs and kills throughout the game. Although the Bobcats started with the ball, West Alabama scored the first point of the night and put up a valiant fight against the crowd favorites.
Freshman transfer Ally Hall led the team in kills with 17. She also scored a team-high 18 points. Hall is one of four new players this season, alongside Sarah Black, Lexi Taylor, and Hayley Shepherd. The freshman transferred from DI school Middle Tennessee State University.
Sophomore Sarah Stewart had the most digs between both teams, notching an amazing 18 digs. Stewart put on a terrific performance Saturday night, showcasing her talent and her importance to the Bobcat squad. She posted a double-double, putting up 14 kills to go along with her impressive dig count.
At the start of the second period, GC scored the first point thanks to a ferocious kill from Callie Miller, who posted six on the afternoon. A kill from freshman Bella DeSalvo put the home team up 2-0. Despite the Bobcats' good start to the period, West Alabama took an epic set that ended 28-26 in favor of the visitors.
However, GC turned the tide in emphatic fashion, winning the next two sets 25-17 and 25-15. They ended the game with a 3-1 final score. The Bobcats' record on the season improved to 4-8 with the victory. They ended the tournament with one win and two losses, and they will look to make a statement at home this Friday against conference opponent Augusta.
"Since last night, we lost, we had a little pow-pow in the locker room and figured all of our stuff out, and then today we just had so much fun," Stewart said. "Everyone on the team played well, and that was a total team effort, and we are excited to get another win next week."
The Bobcats also served very well, hitting six service aces, which doubled West Alabama's ace count.
The dominant win should infuse some confidence into the trending Bobcat squad as they prepare for the rest of what should be an exciting fall semester.
Despite their slow start to the season, the GC volleyball team seems primed for a nice stretch as they play their next five games at home.