Campus Protest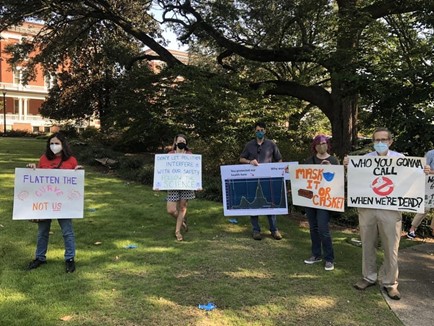 MILLEDGEVILLE –– On Monday morning, members of the Georgia College faculty participated in the first in a series of protests over COVID guidelines on campus.
"Faces showing, cases growing," the group of roughly 20 GC employees chanted. Most of Monday's participants are upset by what they see as a lack of precautions from the University System of Georgia (USG).
"The quickest thing that can be done is a mask mandate," said Dr. Rachel Epstein, an associate professor of Mathematics. "I mean, we've had one before, so they know how to do it."
Current USG guidance bars the administration from enacting mask mandates on individual campuses. Face coverings are "strongly encouraged" for unvaccinated students while indoors.
"I'm kind of appalled at how few masks there are on campus and in closed spaces," Biology Professor and virologist Dr. Kasey Karen told The Colonnade. "Even if you're vaccinated, you should be wearing a mask, and masks really only work if everyone is doing it."
The local chapters of the American Association of University Professors (AAUP) and the United Campus Workers Union (UCWU) organized the protest. Similar demonstrations occurred on campuses across Georgia today, and they will continue through the week.
"Faculty don't give up their right to free speech; they are still full citizens of the state of Georgia," said Holly Croft, GC Archivist, and AAUP organizer. "We realize at this point that the administration here is told that they have to implement the policies set by the folks in Atlanta."
Organizers say the protests will be an hour later each day to accommodate faculty who may have a class. They emphasized that the demonstrations will not impact teaching.