Graduation: What's next?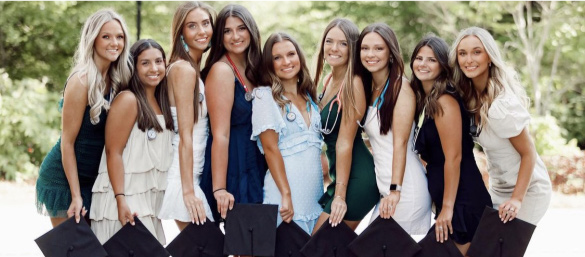 Ryan Robichaud | Staff Writer
The end of yet another school year is quickly approaching at GC, and that means graduation is
right around the corner for our beloved seniors. Many of these future graduates will be leaving
the place that they have called home for years now, but where will they be going and what will
they be doing?
Some will surely be moving on to jobs in other states, or possibly even other countries. Some
choose to take a job within the field of their major and others pursue a new route that interests
them.
Many GC students will be taking time to decide what they want to do post graduation, such as
Luke Ninnmeman, a senior exercise science major.
"I plan on moving home for a couple of months this summer and work at the hospital so that I
can get enough hours built up," said Ninnememan. "After that I would really like to go to school
to become a Physician's Assistant and I think it would be cool to go out of state for that. It is
something that I have wanted to do for a long time. I am very excited to graduate and be done
with my undergraduate degree. I am ready to get out of Milledgeville and start a new chapter."
When asked about the thing he was going to miss most about GC Ninneman said, "I think the
thing that I will miss the most is being able to see my friends all the time. I feel like college will
be the last time all these people that are my age are all in the same spot."
Other students such as Palmer Wilson, a senior management information system major, are
planning on taking an internship and working this summer.
"After graduation I am going to go back home for a couple of months at least, where I will be
doing an internship at the place that I have been serving food at for years," Wilson said. "It will
be a nice change this year because my internship will put me in more of a manager role as
opposed to just serving tables and bartending. I am definitely a little bit nervous to graduate
though, because I have been doing the same routine with school and work for years now.
Milledgeville has been a great place to grow throughout college and I am definitely going to miss
it" Evan Sbat, a senior mass communication major, will also be graduating and has hopeful plans for
this summer.
"My plan after graduation is to get a summer internship that will hopefully turn into a full time
position," Sbat said. "I'm both nervous and excited to graduate. I'm nervous about the struggles
of the 'real world', but I'm excited to begin a new chapter in my life. My ultimate career goal is
to be a camera operator or a director in the film industry."
The class of 2021 has left a legacy on GC that will never be forgotten. No matter where life
leads, Bobcat Nation will forever be a part of us. Congratulations graduates, and good luck in your next chapter!