Return to Normalcy
Can We Go Back to How Things Were?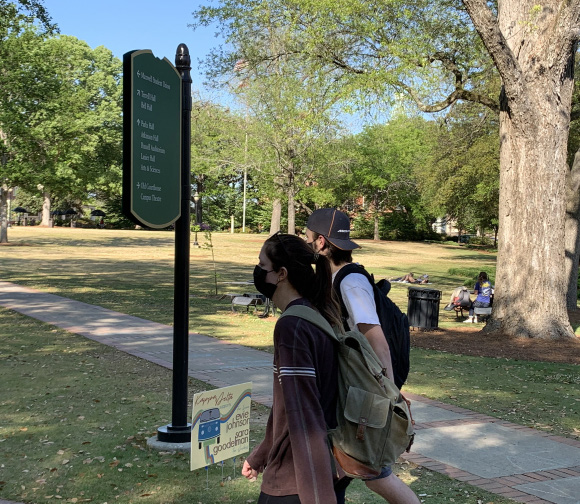 Ryan Robichaud | Staff Writer
GC will be making its return to normal in the fall of 2021, but the meaning of normal is something that many people around the world have forgotten. Throughout the past year, so many things have changed as a result of the COVID-19 pandemic. The constant uncertainty unraveled as the timeline of flattening the curve lengthened from two weeks to one year. At this point, many are concerned things will never be the way they once were.
The return to normalcy plan as stated by Shawn Brooks, the vice president for student life, says, "a return to normal meaning easing restrictions on the numbers of participants who can attend programs, plans to offer comprehensive Bobcat Nights evening and weekend programs, resumption of our normal intramural sports and wellness center operations, and allowing group travel. Campus traditions like Bobcat Marketplace, GC Gives Day, Midnight Breakfast, and Dance Marathon will resume, and we invite you to take full advantage of them. I also welcome your ideas and look forward to seeing the things you will create at Georgia College." Dr. Brooks' statement confirms that GC students will be able to get back to most of their favorite activities around campus, without the worry of contracting the COVID-19 virus.
This is huge news for GC as students and teachers alike have been waiting for some sort of normalcy for over a year now.
If this plan holds true then it will be a big step in the right direction, but it is still up in the air if there will be some restrictions or not. For example, there has been nothing said yet on whether or not masks will still be used, and if there will still be social distancing restrictions in classrooms.
GC has recently been able to administer the COVID-19 vaccine, which is one of the reasons why everything is slowly getting better and why GC will be lowering the restrictions on campus next semester.
Students at GC are both excited and skeptical about the return to normalcy.
"I think it will be weird in a way going to class and not seeing everyone wearing masks," said GC freshman Marketing major Christian Castillo. "This being my first year here I feel like I haven't gotten the full college experience yet, so I'm excited to see some of the restrictions get lifted."
GC student athletes are also very pleased with the announcement pertaining to the Fall 2021 semester. "I think it will be cool if we do not have to get COVID tested before going to the tournaments," said GC golf senior Luke Ninnenman. "We did not even get to have a fall season last year just like a lot of sports, so it will be nice to be able to have that again."
Overall, normal will definitely be a change as people have changed the way that they have done things over the last year. It will definitely be interesting to see how the next semester will pan out with these changes being made regarding the reduction of social distancing.