Deep River Fest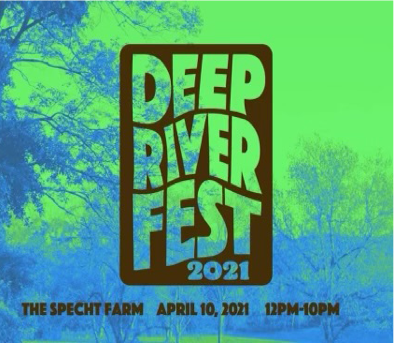 Deep River Fest
By Merritt Dismuke | A&L Editor
Deep River Fest, hosted by Deep River Outfitters, takes place this Saturday from noon to
10 p.m. It is the first annual festival full of "music, food & fun" at The Specht Farm in
Milledgeville. With event planning beginning mid-January, both students and locals alike
look forward to attending.
"One of our main goals for our business is to build community around it," said Nathan
Rich, brand manager for the festival. "We haven't gotten to do something like this in a long
time. We felt like it was time for everybody to turn the corner from what we've gone
through in the past year and start getting out and living again."
With COVID-19 regulations lessening and vaccine distribution increasing, many are
excited to attend the festival and return to a sense of "normalcy" pre-COVID.
"I'm really excited about going," said Paige Munro, senior business management major.
"As a senior, it's great to have one last event to attend in Milly. I can't wait for the live
music."
Deep River Outfitters currently has a location in Tennille, GA, owned and operated by
Keith Lindsey since 2015. Lindsey crafted the idea to host an event in Milledgeville in
spring 2021. Being a GC Pi Kappa Alpha alumni, he hired Rich, a collegiate member of the
fraternity, to assist in the festival's planning. They cultivated a partnership ensuring the
festival's success; the pair hopes Deep River Fest will facilitate brand awareness, bring the
Milledgeville community together and provide abundant entertainment and fun.
"Having our name on an event, we believe will build brand recognition," said Lindsey. "One
thing I'd love for people to walk away with from the event is that our culture is a community and
we want to give back to that community."
Deep River Outfitters donates 10% of their sales to non-profits and plans to do so with ticket
sales. 'Miss Deep River' is also a concept created by the pair, allowing sororities to nominate a
chapter representative for the title. The campaign launched on social media this past Monday; the
winner of the title is determined by the most Instagram 'likes' on individual posts highlighting
chapter representatives @shopdeepriver. Miss Deep River will receive $500 to donate to their
chapter's philanthropy.
Apart from community, there's a lot to be seen at Deep River Fest; attendees can expect a
mechanical bull, a cornhole tournament, vendors and live music. Musical lineup includes The
Vegabonds, Timothy James, Highway 49, Winston Ramble and Tyler Cullins. Additionally, 30+
vendors plan to "set-up-shop" and sell local products.
"As far as people coming, we expect 2,000," Rich said. "There's about 1,000 tickets out there
already. The weather has an effect on that, among other things, but we're hoping to get to 2,000."
The anticipation for the rain-or-shine event is palpable among GC students. As social distancing
guidelines lessen, many are itching to attend large-scale community gatherings. The reception for
the festival is mostly positive; although ticket sales consist mostly of college students, locals are
attending as well. As of Monday, Lindsey said the ratio of ticket sales are 60% students, 40%
locals.
"People were saying, 'Finally, we get to do something. Finally, we get to have a community
event.' It's definitely gotten the reception we've been aiming for," Rich said.
With a large attendance size, social distancing guidelines come into question. Although the event
has received little pushback, Lindsey is confident in the festival's outdoor location. Face masks
are required on shuttle busses to-and-from the festival, but optional when attending.
"We want people to do what they feel most comfortable with," said Lindsey. "If you want to be
around a lot of people, you can be around a lot of people. If you want to be on the fringes, you
can be on the fringes."
Product vendors will be 15-20 ft. apart from each booth. The festival's layout allows attendees to
trust their own comfortability.
The company previously hired college students to assist in merchandise sales at fairs and
festivals (i.e. Deep Roots) across the Southeast, but halted employment due to COVID-19;
however, Lindsey created internship opportunities for GC students wanting to assist in the
festival's production. Local businesses, such as Erin Andrews Media, have also assisted in the
festival's marketing.
"As somebody who's never put something like this together to this scale, I did not realize
everything that goes into it," Rich said. "But it's been a blast at the same time. I've enjoyed
every second of it."
Deep River Outfitters hopes to open up a store in Downtown Milledgeville; the upcoming
festival serves as the company's introduction to the community but also aims to strengthen it.
The potential store will sell American Apparel such as hats and t-shirts; Rich compares their
merchandise to that of Patagonia, embracing the outdoors.
"This is not a one-and-done thing," Rich said about the festival. "This is something we want
recurring every year."
With the cancellation of Deep Roots, Milledgeville's annual fall festival, Deep River Fest hopes
to fill the void of a gathering filled with fun, food and community.
Ticket sales include a free Deep River Fest t-shirt. Ticket prices will stay at $25 until the event
takes place April 10. The event is open to everyone; tickets can be purchased at
shopdeepriver.com.