First Taste: Doodles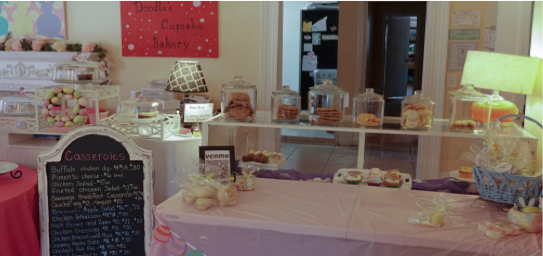 First Taste: Doodles
By Bailey Clark | Staff Writer
Doodle's Cupcake Bakery is a local hole-in-the-wall bakery that sits in an older house on N.
Jefferson St. The bakery has been open and in the same location for 10 years. The exterior of the
house is a hard-to-miss pastel pink, and the interior sports cozy, neutral colors.
The layout of their treats is unmatched; they have everything that is available for the day out on
display. Customers can pick up treats by walking in, or calling in and placing special orders.
"I use my own recipes and make everything fresh in the morning with what I have available,"
said Keith Grant, Doodles' owner.
McKenzy Kersey, a junior exercise science major, took a trip to Doodle's to see what their treats
were all about.
As a curious first-timer, Kersey asked Grant and the worker at the front what the best treat to try
was. They agreed that the Chocolate Sensation Brownie was the way to go. The Chocolate
Sensation Brownie is three layers thick with a chocolate icing layer to cover the nut filled
brownie center.
"This brownie is so rich," Kersey said. "I did not expect it to be this rich but it's also sweet and
moist. I would get it again."
Kersey tried several treats that day including their chocolate and pound cake cake-pops, a
chocolate chip cookie and a pound cake cookie. She said the cake pops were amazing and fresh,
the cookie was super chocolatey and the pound cake cookies tasted like sweet sugar cookies.
Aside from cookies and cake pops, Doodle's is most known for their cupcakes. Doodles offers
several different cupcake flavors and variations. Flavors range from original vanilla and
chocolate, and several remixes of classic flavors everyone knows and loves.
"I found out about Doodles' cupcakes through their Facebook cupcake giveaways," said Sydney
Parrish, a senior management major. "They will post daily giveaways where you tag your
friends, and the winner wins four free cupcakes. I've never won, but I won't give up!"
A popular chocolate twist is the German chocolate cupcake, which is a chocolate cupcake with a
sprinkle of coconut. The cupcake has a German chocolate batter topped with chocolate icing and
coconut shavings.
Another fan-favorite is the chocolate hazelnut. This cupcake is a chocolate batter filled with
chocolate ganache, topped with chocolate icing and a Ferrero Rocher.
"The German chocolate cupcake is honestly one of the best cupcakes I've ever had," Parrish
said.
Aside from their day-to-day treats, Doodle's offers special seasonal treats and a full menu of
savory casseroles. They offer 20 different casseroles, including chicken tetrazzini, sausage
breakfast, shepherds pie and so many others.
Doodle's Cupcake Bakery is located at 140 N Jefferson St. NE and is open Tuesday-Thursday from noon to 6 P.M.