Four arrested in connection with weekend shooting at Central State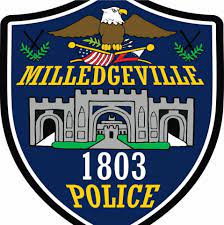 Milledgeville Police confirmed Wednesday evening that four people were arrested and charged in connection with a Saturday afternoon shooting that left one man hospitalized.
"These people do not care about human life, and unfortunately, that's the trend I'm looking at as far as all these shootings," said Milledgeville Police Chief Dray Swicord. "The bullet has no name on it, and when they start firing this many rounds, certainly someone's going to get injured that has nothing to do with it."
According to investigators, Ja-Quarius Marshall, 25, and Ja'Kobe Brown, 19, were in a Lincoln Town Car.
Two other people, 25-year-old Kibias Mosley, and a 16-year-old juvenile, were traveling in an Audi SUV. Preliminary findings show Mosley was the driver, and the juvenile was the passenger.
"We can't pinpoint that it is gang-related; I can certainly say both parties are gang associated," Swicord said. "But I am not able to say if it was gang-on-gang…I don't think that's the case in this deal."
The four got into what police describe as a "rolling shootout" until Marshall and Brown, the occupants of the Town Car, crashed into a utility pole and tried to flee on foot.
"During this time, J. Marshall sustained a gunshot wound to his back and was also ran over by the Audi SUV," an MPD press release stated. "The occupants of the Audi SUV then got out and began beating J. Marshall."
Law enforcement received multiple 911 calls and responded around 3:30 p.m. to the area of Swint Ave. and Broad St. When they arrived on the scene; they found Marshall with a gunshot wound and Brown nearby.
Baldwin County Deputies located the Audi SUV on Lee Street, saying it had "multiple bullet holes in it."
The chief said six shootings took place over the weekend. Two were inside the city, and four were in the county.
Swicord confirmed that the specialized GBI Gang Task Force is assisting in the investigations. "[To help us] try to understand what the problem is."
Each of the men faces multiple charges:
JA-QUARIUS MARSHALL
*AGGRAVATED ASSAULT
*POSSESSION OF A FIREARM DURING THE COMMISSION OF A CRIME
*POSSESSION OF A FIREARM BY A CONVICTED FELON
*RECKLESSLY ENDANGERING SAFETY OF OTHERS
JA'KOBE BROWN
*AGGRAVATED ASSAULT
*POSSESSION OF A FIREARM DURING THE COMMISSION OF A CRIME
*RECKLESSLY ENDANGERING SAFETY OF OTHERS
KIBIAS MOSLEY
*AGGRAVATED ASSAULT
*AGGRAVATED BATTERY
*POSSESSION FIREARM DURING THE COMMISSION OF A CRIME
*RECKLESSLY ENDANGERING SAFETY OF OTHERS
JUVENILE
*AGGRAVATED ASSAULT
*POSSESSION OF A FIREARM DURING THE COMMISSION OF A CRIME
*POSSESSION OF A FIREARM BY A MINOR
*RECKLESSLY ENDANGERING SAFETY OF OTHERS