Georgia College opens a new multi-million-dollar science building
Members of the Georgia College community gathered in the afternoon sun to celebrate the opening of the university's new multi-million-dollar science building.
"You're going to see walls that are glass walls that you can actually see into the laboratories," said Steve Dorman, outgoing president of the university. "You will be able to see science on display as it's happening here in this building."
The $22.1 million project is the first new building built on the campus since the 1990s.
"That ability to see through those walls will democratize science," said Eric Tenbus, Dean of the College of Arts and Sciences. "And perhaps to some, make it less intimidating."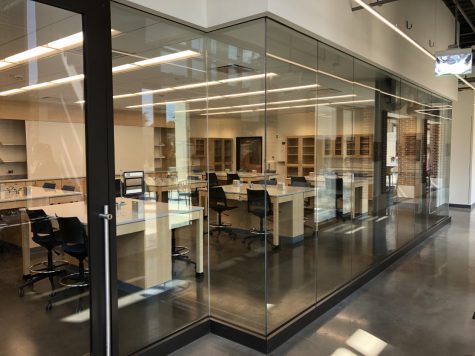 Workers designed the 43,000 sq. ft. structure to fit with the other buildings on the campus.
The new science complex also features some of the more than 200 paintings donated to the university by Jim and Karen Fleece.
Most of the artwork comes from the Fleece's private collection of 20th century African Art from the Poto-Poto School of Painting in Brazzaville, Republic of Congo.
"These paintings and other pieces of art will continue to remind all of us that this building represents the beautiful fusion of the arts and the sciences," Tenbus said.
LISTEN: Dr. Steve Dorman talks about the time capsule that is inside the building.
"Our students are going to have an incredible state-of-the-art experience in a facility that is 21st century," said Dr. Indiren Pillay, chair of the biological and environmental sciences department.
According to the administration, the new facility will be a resource for everyone. "Our doors will be open, and we will be inviting the community to look at the art and the science at the same time," Pillay said.
Classes will begin in the new building in January of 2022.