Women's History and Action Month
March, Women's History Month, through the lense of GC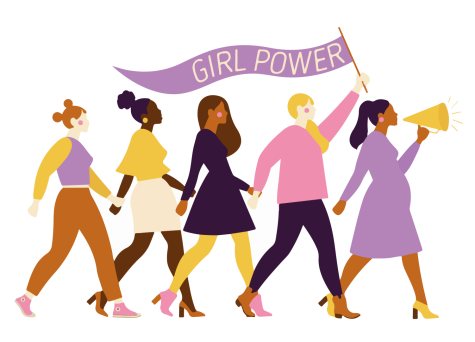 Reporter: Charlotte Everts
"Women's History and Action Month"
The month of March is declared to be Women's History month to highlight the contributions of
women from the past to present day. The Women's Center community at GC was founded in
2005 as an on-campus department for students to learn and explore issues about gender equity
and gender identity.
It also is a place for women to learn about leadership and relevant social issues. The community
has evolved the past few years by working closely with the Pride Alliance on campus which is
the LGBTQ+ student group. The Women's Center and LGBTQ+ Programs have expanded to
include focuses on issues around sexual orientation and gender minorities besides only issues of
women.
One of the women that founded the Women's Center at Georgia College was Jennifer Graham.
Jennifer Graham has been involved in the community since she attended GC as a student.
She has been working at the Women's Center since 2007 and is very fortunate to be able to
create learning opportunities for the community with college students and fellow staff as her job.
The community has grown over the years with a current team of about 20 staff members which
include professional staff, graduate assistants, student workers and interns. They all help with the
creative process of planning events which are decided based on what they want to do and talk
about for others to be involved with.
One of Graham's favorite events has been the Clothesline Project. The Clothesline Project is held
every October during Domestic Violence Awareness month. Anyone is able to create and donate
shirts with graphic messages and illustrations to support women survivors of domestic violence.
The shirts raise awareness of the violence and its impact.
Even though there has been a shift in the creative process due to COVID-19, it has not been
difficult for the staff to come together to think of plans for Women's History Month. This year,
the Women's Center team has made plans like Trivia Night, Women's Leadership Conference,
Grab and Go Paint Event and an Alumni Zoom Call. The Alumni Zoom Call will be hosted by
graduates to talk about how their involvement at the Women's Center has helped them move
forward in their careers.
At the end of the month, Graham said they are collaborating with other Women's Centers across
the nation to listen to speakers on zoom to encourage women through their leadership. The
Women's Center at GC has incredible events planned for the month of March which anyone can
attend.
The Third Annual Women's Leadership Conference was held earlier this month. There were
many amazing speakers who were all so encouraging about being a leader as a woman. Helen
Kim Ho was the first speaker who talked about her passion for public service as she started her
non profit organization, Asian American Advancing Justice. She encouraged everyone to be our
own leader for social justice and use what angers us to take action for our community.
All of the speakers addressed great points about what it means to be a leader and stand up for
women when there is inequality. Women can do anything, but not everything which made me
realize how important self care is.
Another speaker, Lynnette Phillips, talks about how consistency is a commitment and it is
important to be committed to ourselves with a clear purpose and positive energy. Throughout the
conference the energy felt encouraging, uplifting, and inspiring.
It is important for students to be involved in their community and it is easy to be involved at the
Women's Center. There are internships and practicum opportunities every semester for students
that they can be involved in. Also, students can easily show up to any events they are interested
in.
The offices are always open at the Women's Center at Blackbridge Hall if anyone has any
questions which they can talk to the staff members. Lastly, there is a lending library at the
Women's Center that contains books about gender and sexual orientation for people to check out
to educate themselves on important topics!