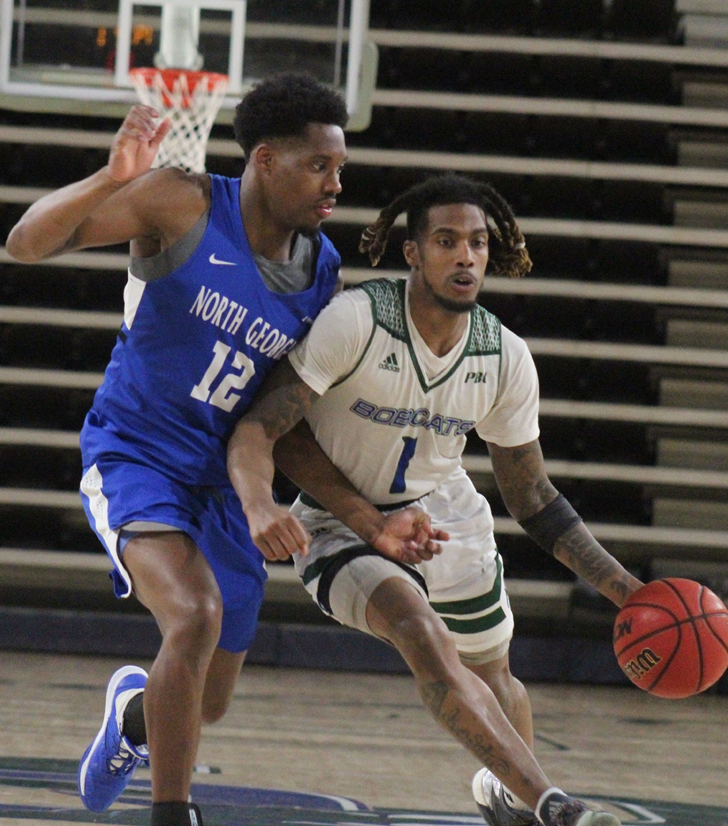 Bailey Clark | Staff Writer
The Georgia College Men's Basketball team (10-2, 10-2 PBC) took down the University of North Georgia (2-8, 2-7 PBC) 77-62 in the final regular season contest. The Bobcats winning streak balloons to nine.
The offense dominated the conference contest which included an all-around effort from the starters to the reserves. Junior forward Christian Koneman recorded his first career
double-double with 15 points and 10 rebounds. .
His 15 points were the second highest on the team and his 10 rebounds led the team.
"It felt good, glad to know the hard work is paying off," Konerman said. "Coach Aquino has been on me about touching the glass."
Jordan Thomas led the team in scoring with 18 points and four rebounds. He shot 6-7 from the free throw line and 5-12 from field goal range.
Thomas is a prominent player in GC men's hoops history by having the most points in the NCAA – era, and shootaround is an important part of the game.
"Anytime before the game I like to get form shots in," Thomas said. "In warm ups I'm just trying to make shots and make a rhythm so when the game comes I'm already in rhythm,"
The Bobcats put up 37 points in the first half to UNG's 34. Koneman was electric in the first half putting up 10 of his 15 points. The defense also made their presence known in the first half having seven out of their nine steals.
In the second half, the GC defense kicked in in gear holding the Nighthawks to only 28 points while the Bobcats offense put 40 on the board. In total the Bobcats had 27 rebounds on the night and the second half yielded 17.
Thomas was on fire during the second half of the game putting up 16 of his 18 on the night. Throughout the game GC was able to force 13 turnovers which produced 12 points. On the other hand, the Nighthawks were only able to score two points off of six Bobcat turnovers. Overall GC led UNG in all major scoring categories.
Both Thomas and Koneman feel like after making the PBC tournament last season, which was a first for most guys on the roster, they feel like they can go into the postseason with more
experience. Thomas also mentioned that the nine game winning streak is a huge deal going into the postseason especially with momentum.
Georgia College will host No. 3-seed Georgia Southwestern State University (12-4) Thursday, March 4 at 8 p.m. in the Centennial Center, for a spot in the PBC final.