New Plan for Bobcat Spring Sports Attendance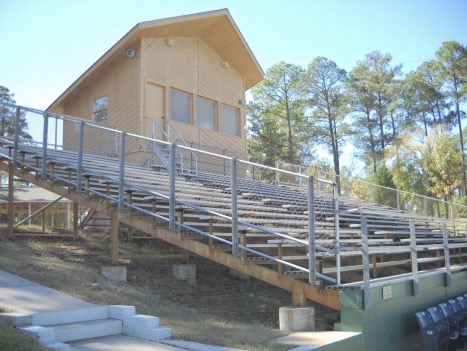 By Ryan Robichaud
The GC athletics department has implemented an attendance policy to reduce the number of fans allowed at home games for GC sports in the spring semester. This has come in response to the COVID-19 pandemic that has derailed normality in attendance for sports at all levels. The decision was to lower the number of fans allowed at all events to 30% of typical capacity, with other protocols being put into place to make sure that the events are as safe as possible to attend.
To attend the events, spectators are required to abide by social distancing guidelines put into place by the CDC, as well as wearing a mask that covers their mouth and nose. There will be limited attendance at venues such as John Kurtz Field, the Peler Complex, Bobcat Field, the Centennial Center Tennis facility, as well as at the home golf tournament at Cuscowilla on Lake Oconee.
Players and coaches alike seem to understand the decision that has been made to reduce fan capacity to 30%, with everyone understanding that it is more important to keep the health of everyone as the top priority. "We are always going to put health and safety above everything else," said GC Director of Athletics, Wendell Staton, when asked about the decision to reduce capacity at home games. "We've been very risk averse and taken a conservitive approach and to this point we have not allowed fans in the centennial center."
When we asked coaches and players about the new limited attendance policies, they had similar thoughts. With fans in attendance allowing athletes to get support and feed off of an audience, especially when playing on your home turf, it is questioned whether or not this policy will affect the performance of the teams.
"I'm just glad some fans can come. We always try to focus on what we are doing on the field anyways," said softball head coach, Jamie Grodecki.
On the other hand, baseball redshirt-junior infielder, Cassius Young, didn't feel like it would change much in terms of performance. "I personally don't think it will affect us. I still think we will have a good amount of fans out there just sitting in different places," Young said.
In regards to ticket sales and concessions, it does not seem like it will have a significant impact on revenue either. With the absence of a ticket gate at the baseball, softball, and soccer games, GC does not charge admission, therefore fans can come and watch from any side of the fields which will help with social distancing. John Kurtz Field will be the hardest to contain the amount of fans to a minimum due to the large hill on the third base line that acts as quality seating for fans.
Overall, The GC Athletic Department seems to be taking cautious steps in response to the pandemic, making the health and safety of our athletes and spectators a top priority.