GC Hillel Welcomes Jewish Students Home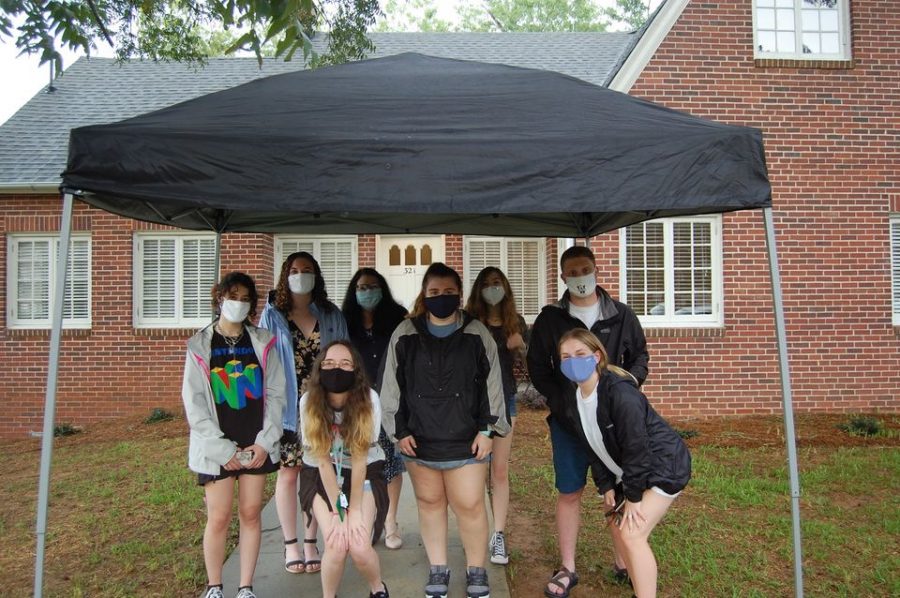 Raleigh Hutchison
GC's Hillel, a community of Jewish students, recently purchased a home for their community to dwell earlier this semester.
Dr. Karen Berman founded the Hillel community 12 years ago and is saddened by upcoming retirement.
Dr. Berman said Elliot Karp, CEO of Hillels of Georgia, was their saving grace, as he recognized Dr. Berman's dedication and set up a sponsorship campaign to bring donations to the Hillel. According to Berman, President Dorman helped achieve Berman's dreams of expanding the group. GC bought the house and is renting it back to the Hillel. Dorman also made the first donation to the Hillel House.
Abbie Frankel, junior mass communications major and Hillel President, has worked tirelessly with Berman to create a home away from home for Jewish students.
After a lifetime of attending Jewish schools and Synagogue, Frankel said she felt distanced from her roots her freshman year of college. She found the small Hillel and instead of becoming discouraged, she made it her mission to build the strong community she was seeking. Frankel could not put into words how much the community meant to her. She was speechless explaining her love and gratitude for this place. Passion radiated from her eyes as she shared her journey strengthening, and being strengthened by the Hillel.
Over the past dozen years, Berman hosted countless events, including speeches by Holocaust survivors, Israeli military heroes, and observed religious holidays together. Abbie said it is her goal to host at least two events a month. Prior to having the house, their meetings took place at the MAX or above the Black Box Theatre. But Berman said she dreamed of getting a space for the Hillel to call their own.
Their events are typically one Shabbat meal and one fun outing. They go bowling, have game nights, or movie nights. This semester all events have been hosted on the house's front lawn to maintain social distancing. Their calendar changes depending on the religious holidays of the month.
They also make it a goal to serve the surrounding community. Every year the Hillel donates Hannakah and Christmas care packages to the Israeli army and children within Milledgeville and participates in both Passover and Easter service projects.
Both Berman and Frankel agreed that their goal is to provide students with a home away from home. Since the closest synagogue is 45 minutes away, they have to hold their own practices and community nearby.
They said their desire is to educate the entire community. Anyone is welcome to join the Hillel's events, as long as they are open-minded to learning about Jewish tradition and Israeli roots. "It's so much more than just a Hillel," Frankel explained, "we have something different, it's the people."
Frankel said that GC's Hillel is particularly close-knit because they each know how it feels to be an outsider, and find community in their religion.
"It really is the people, and that's what any student is going to tell you," Berman said. Both Frankel and Berman recognize this home represents their hard work and dedication. And their gratitude glowed as they invited their Hillel home.
To learn more about GC's Hillel you can direct message GC_Hillel on Instagram or email [email protected] or [email protected].